Have you ever considered getting cornrows?! Yep, it seems the trend isn't as over as we thought it was. No longer the hairstyle of choice for people who don't want to wash their hair, cornrows have been EVERYWHERE this summer, and the look is only just taking off. Tempted? Check out these celeb styles for inspiration.
Table of contents:
1

K-Stew…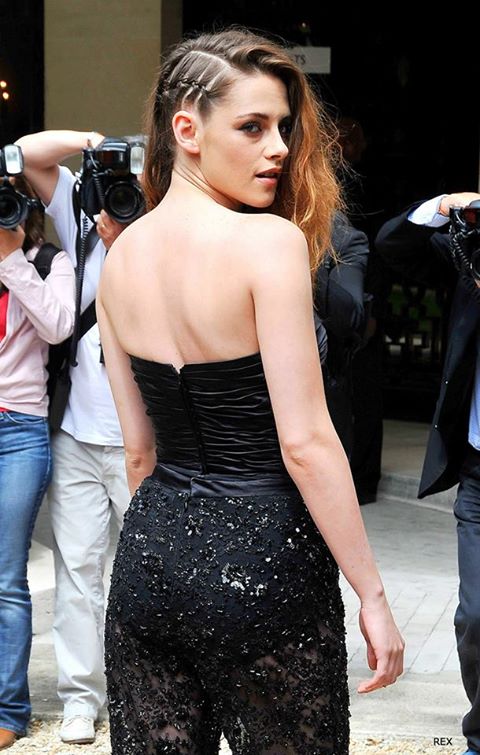 Kristen Stewart rocked cornrows at Paris Fashion Week, and boy did she cause a stir. Teamed with a very glitzy jumpsuit – check out those sequins and lace panels! – K-Stew went with side-swept hair, and cornrows down one side. She kept her trademark smoky eye, and finished the look with a glossy lip. She definitely got this look right!
2

Emma Watson…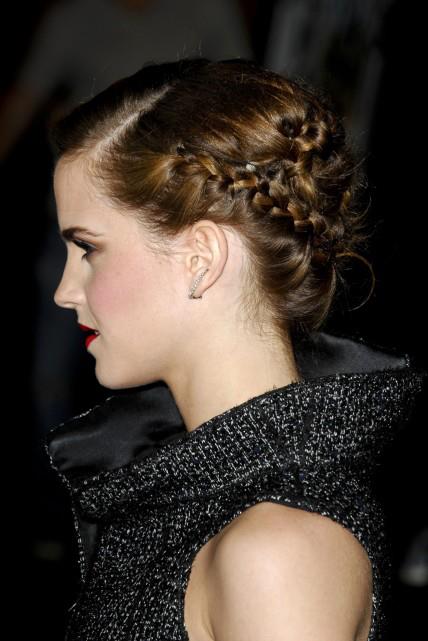 Emma caused hair controversy when she slashed off her long locks after finishing Harry Potter, and made her name as a fashion-forward celeb with that adorable pixie crop. She's done it again for the premiere of the Bling Ring, sweeping her hair up into an elaborate up-do, complete with plenty of braids. It looks great with the dramatic neckline of her outfit, and I love that bright red lip…
3

Ke$ha…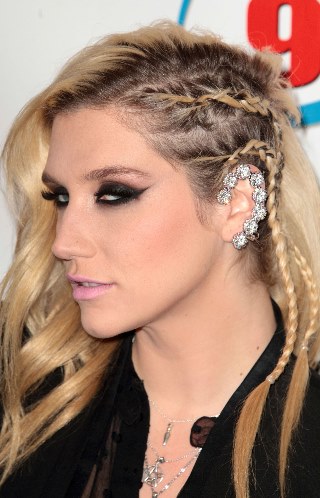 Just look at that glitzy ear cuff! Ke$ha played down her collection of rather eye-catching jewelry by teaming it with two rows of cornrows on that side, leaving the rest of her hair down. Showing off her dark roots gave this an extra grungy feel – it's a great hairdo for those days when you are between dyes!
4

Cara Delevingne…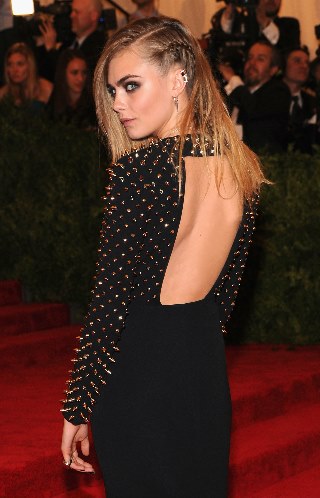 Everyone's favorite model of the moment got in on the trend for the punk-themed Met Gala. Her backless dress was adorned with gold studs all the way around, and she teamed it with a smoky eye, side-parted hair and a single edgy cornrow. Definitely one of our favorite looks from the night!
5

Jennifer Aniston…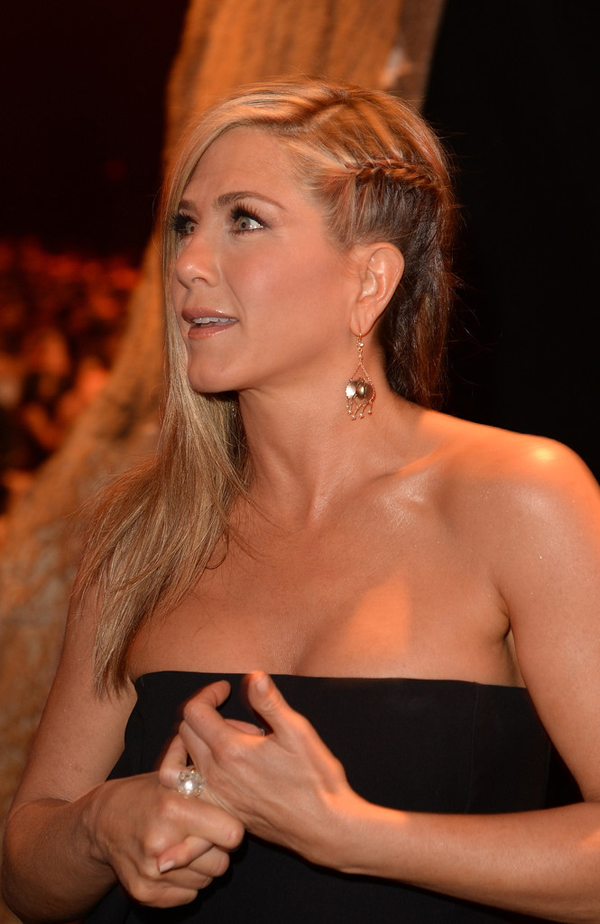 Even Aniston has managed to pull of this look, dressing up a single cornrow with a long earring on that side, super-glossy hair and a beautiful strapless black dress. Her typical make-up finishes the look well for the Spike TV Awards – damn, could she be any more gorgeous?!
6

Scarlett Johansson…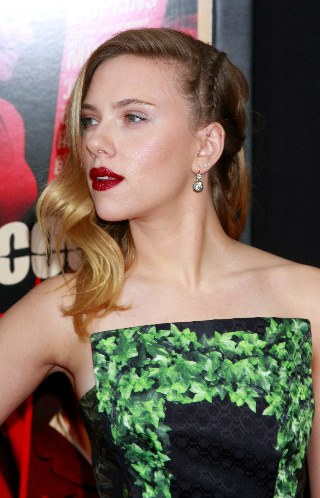 Not one to miss out on a trend, Scarlett rocked a much more glamorous take on the trend for the premiere of Hitchcock. Gorgeous Veronica Lake waves on one side were contrasted with tight cornrows on the other side, and an eye-catching scarlet lipstick. Scarlett's look is definitely one of the easiest takes on this trend – it looks great even with that slightly-odd dress! Steal her style by lining your eyes lightly, adding a statement lip and curling just one side of your hair. Add vintage drop earrings and some shine spray all over, and the look is much more feminine.
7

Heidi Klum…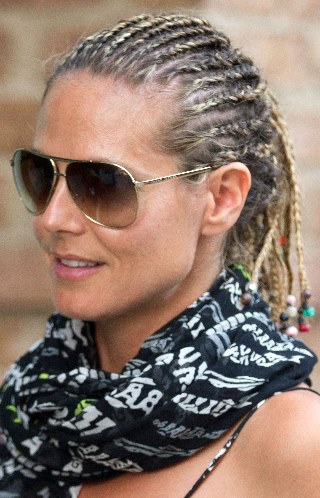 Not all cornrow looks were created equal, and this is a hard one to pull off. Inspired by Rihanna, Heidi went for an undercut look – but didn't actually shave off any of her hair. The colored beads improve this look slightly, as does the eye-catching scarf, but it's a hard look to wear and it'll play havoc with the condition of your hair. Be very sure before you try this one!
8

Xtina…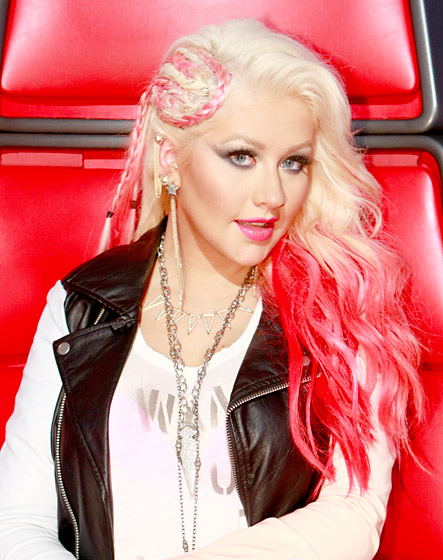 Yep – Xtina was rocking cornrows years ago. Unfortunately, she seemed to miss out on the understated look. Heavily bleached hair and bold pink streaks don't make a great look, and it's even worse combined with crotchless trousers. If you want to mix cornrows and color, make sure your hair is well conditioned, and go for an evenly spread color – looking like you've fallen into a paint tub isn't gonna flatter anyone.
Are you tempted to try cornrows? Some of these looks are just so gorgeous – Scarlett looks amazing, and Khloe K showed off how to do an understated look, too. I might give it a try! Have you got cornrows? Let me know what you think!
Please rate this article