24 Fancy Nail Art Designs That You'll Love Looking at All Day Long ...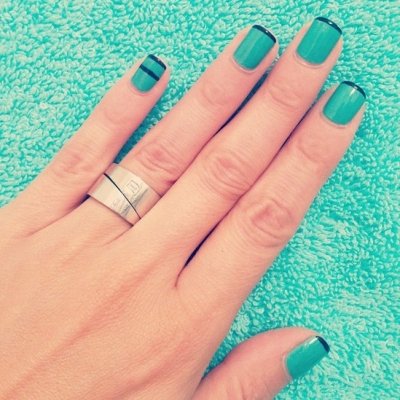 Fancy nail art is rocking the world of beauty right now. Get the look you crave by using these ideas for inspiration. Don't forget to describe your favorite fancy nail art ideas for me to try.
1.

Love in Purple and Silver
Via Nail Ideas | Beauty Tutorials
This is one of the best fancy nail art designs and is super fun because it incorporates a heart on the third nail that's the same color as the base on several of your other nails. Add some glitter on one nail and as stripes with the heart and you're good to go.
Via media-cache-ec0.pinimg.com
Flowers are surprisingly easy to draw with a small paintbrush. The effect is perfect with a couple of solid colored nails to go with them.
3.

Sparkle French Manicure
Via Nails
Instead of the traditional French manicure, try making the base glitter instead of plain pink.
Via nails
Chevron is huge right now so a touch of of it on your nails is fun and easy to do.
5.

Classic Pink and Black
Via Nail Ideas | Beauty Tutorials
There's something so elegant about the combination of pink and black. Add some polka dots and you're good to go.
Via pinterest.com
Placing part of a design on each nail that combines into one picture is super fun.
Via 50 Easy Nail Designs | ...
A toothpick or small paintbrush is the ideal tool for freehanding a peacock feather. Add a dash of glitter and a touch of turquoise and you can't get much fancier.
Via Nail Art | Beauty Tutorials
Tiffany blue is big right now and it works perfectly with white and black.
Via Nail Polish
Whether you're headed to Disney or not, this easy to copy polka dot idea is fun and quirky.
Via Valentines Day Inspiration | Salon ...
A fun holiday color combination, pink and gold are great for stripes, hearts or anything you can dream up.
Via Imágenes de manicura de uñas ...
A bit of girly pink and blue combine with white for an ultra feminine look.
Via Nail Art
Again, an anchor is a fun little detail that's pretty easy to draw. Add mint green and silver glitter and you have a fun look everyone will love.
Via Nail Art
What a great color combination no matter how you do it.
Via 10 Memorial Day Manicures For ...
This one is perfect because it combines the greatness of red, white and blue with a bit of bling and uniqueness. Rock it all summer long.
Via 47 Amazing Retro Nail Designs
Black nails with brightly colored bubbles add some fun and pizzaz to your day.
Via bloglovin.com
Yellow nails with some cute tiny bananas on a couple digits is fun and different.