Our skin is just as important as the rest of our body, but sometimes we forget to take care of it when we go out in the sun, use products that make it dry or oily, or use products that contain chemicals that are harsh on us. That's why I'm so excited to bring our readers this wonderful giveaway from JUARA Skincare, whose products are 100% vegetarian.
More about JUARA Skincare...
Update: Contest Closed We Have a Winner!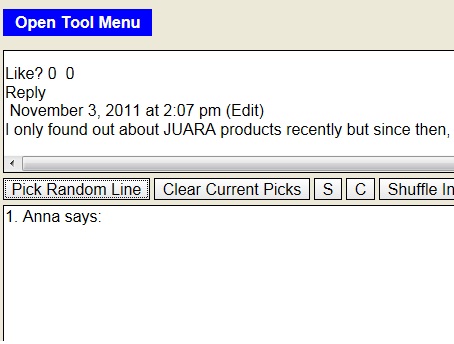 Congrats to Anna who said she recently found JUARAand gets great compliments on how her skin looks since she has been using their skincare products! We are so glad that you already enjoy JUARA skincareand now you will be receiving the Glow on the Go Travel set from JUARA for free! We want to thank the staff at JUARA skincarefor this wonderful giveaway and for our own set that we will be talking about next week in a product review! Thank you to all our readers who entered, don't forget to check out our giveaway pagefor other contest still open and come back to learn more about JUARA skincare in my product review.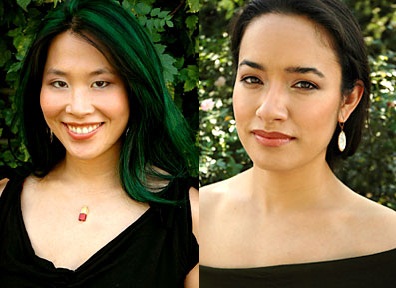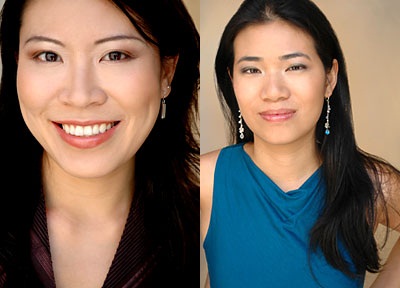 (JUARA Founders: Metta, Yoshiko, Tami, and Jill)
1. When did you start JUARA and why was it important to keep it organic and vegetarian?
"I started JUARA with four other women in 2005 in New York City and today, I travel frequently to Indonesia to continue to conduct research and spend time there with my family while working on JUARA. It is based on the Balinese beauty secretes and Indonesian botanicals and medicinal, herbal treatments from my own heritage which utilizes lots of natural, unique, vegetarian ingredients. I believe it's important to stay true to the roots of these medicinal herbs which are vegetarian, to maximize its beneficial effects."
2. What are some of your favorite ingredients to use in your products?
"I love several of them - Candlenuts (Very moisturizing but non-greasy oil), Turmeric (super potent antioxidant and skin brightener), and Sweet Black Tea - which is really called "Kombucha", a fermented sweet black tea (naturally anti-aging), because of their numerous benefits."
3. What are some of your most popular products?
"Candlenut Body Creme, Sweet Black Tea & Rice Facial Moisturizer, and Rice Facial Cleanser."
4. Do you travel to get the ingredients you need or are they shipped to your location?
"We create and source our products all in the USA; I go to Indonesia for inspiration, however we locally source the ingredients because there's no need to ship something readily available from overseas when you can get it here at a very high quality and it is unsustainable to do so just to have a 'story.' I think the authentic heritage and ingredient use is what is unique, so don't believe in increasing our carbon footprint just to reinforce that point when it isn't necessary."
** 5. What do see and have planned for the future of JUARA?**
"I'm excited to have new products in the pipeline that we are launching this holiday season and spring 2012. I want to continue to share the wonderful heritage of these beauty secrets from my home country to the US and encourage women who have an idea to start their own businesses and dreams to pursue it too, like we did."
(Questions answered by founder Metta Murdaya)
Continue Reading for Giveaway Contest...
How to Enter Giveaway Contest: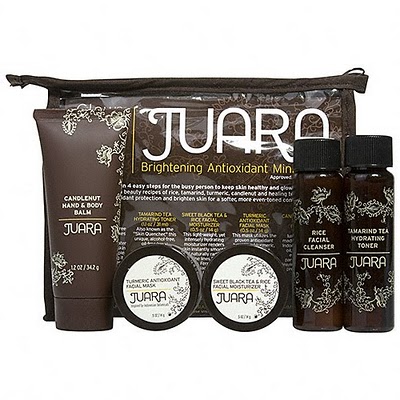 The JUARA Glow on the Go Travel Setincludes a** Rice Facial Cleanser** (1.1 oz), a Tamarind Tea Hydrating Toner (1.1 oz), a Turmeric Antioxidant Facial Mask (0.5 oz), a Sweet Black Tea & Rice Facial Moisturizer (0.5 oz), and a Travel Size Candlenut Hand & Body Balm (1.2 oz). To enter to win this travel set please leave a comment telling us if you have tried JUARAor why it's important to you to take care of your skin and use safe, 100% vegetarian products. For a 2nd entry tell us that you like JUARA Skincareand All Women Stalkon Facebook, and for a 3rd entry please let us know that you follow JUARAand All Women Stalkon **Twitter **and leave your twitter name! Thank you again to the staff at JUARA Skincarefor this wonderful giveway. Good luck readers, come back next Thursday to see if you are our lucky winner!