There are lots of glamorous ways to wear gold, and since it's a big trend right now and in the coming seasons, you may be looking for some new techniques. There's such a variety of shades, styles, and choices available, you can wear gold even if you've previously avoided it. I'm one of those girls, since I'm so pale that yellow gold tends to wash out my skin and make me look sallow – at least in terms of jewelry. The thing is, I've got hazel eyes, and I've come to realize that gold makeup really makes them pop! Even if you don't like gold rings and things, you can instead try gold clothing and accessories – you might just find a new favorite color! If you want to know how to wear gold in a way that works for you, check out these techniques!
---
1

Vivid Variations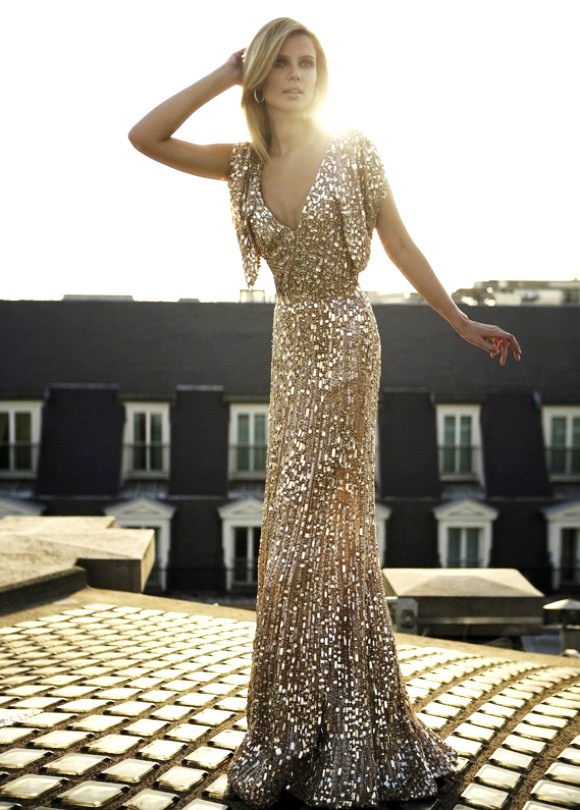 Even if you're not a fan of standard shades, there are still lots of fantastic ways to wear gold with which to experiment. Just play around with different variations and find something that complements your skin tone, your hair, or the color of your eyes. For instance, keep it light by choosing a pretty, frosty champagne, or go more toward bronze if you prefer darker colors.
---
2

Glam Gold Accessories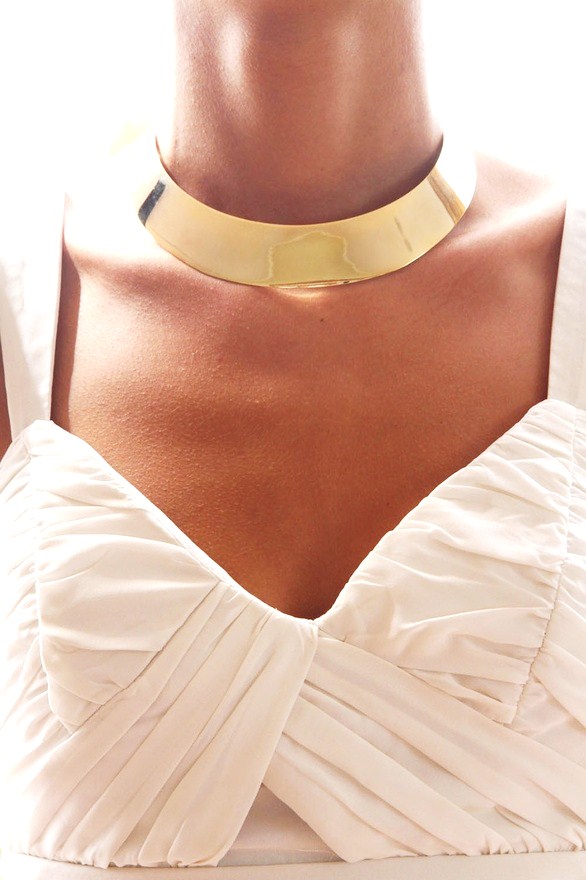 Get into the trend by starting out small or keeping things slow. Incorporate gold accessories in your wardrobe and experiment not only with different color variations, but also with different items. For example, you can simply start by wearing jewelry, like fine chains or chunky bracelets with pretty, complementary stones. Belts, hair accessories, and handbags are all fantastic options as well. By going this route, you can easily add a little glow to your outfit without acting wearing gold. Gradually, you may want to try branching out with the color!
---
3

Essential Eye Makeup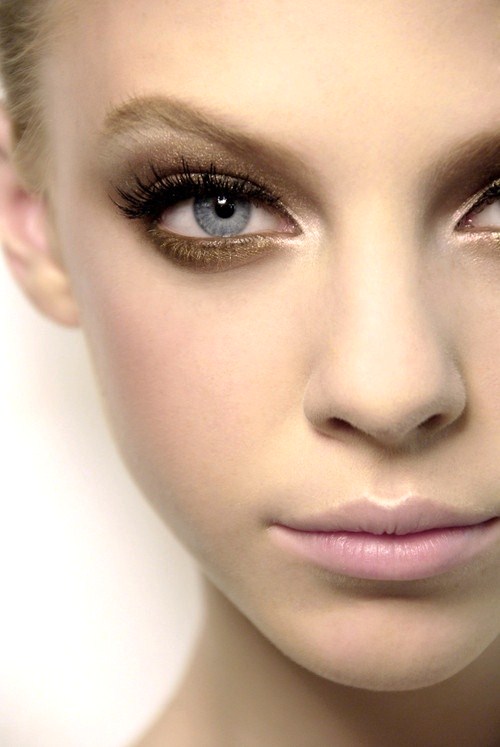 Gold eye makeup is absolutely gorgeous. If you've been looking for something new, I'm serious, check out some gold options. Brighten your eyes with a touch of gold eyeliner, especially added to the inner corners on your upper and lower lids. It looks great with brown eyes, green eyes, and hazel ones, plus it adds warmth to blue hues. Gold shadows are beautiful as well, especially when you choose a palette with several different shades that complement one another. A dusting of gold powder looks lovely in the day time, or you can go all out with a golden smoky eye for an evening out.
---
4

Solid Gold Shoes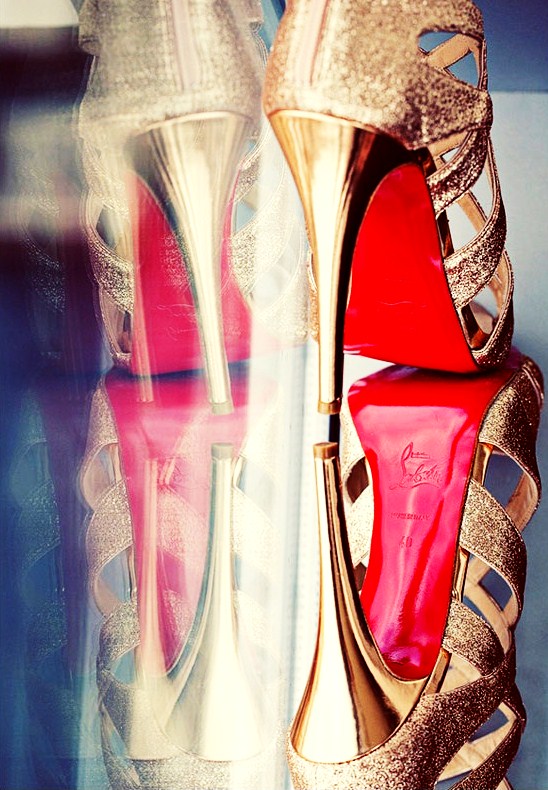 If you're looking for stylish ways to wear gold, look no farther than your feet! Gold shoes are utterly fabulous, and there's such a variety of styles that you'll easily be able to find your favorites. You can go with glittery heels that have a lot of texture, or a smooth, metallic ballet flat. There are lots of golden brogues and Oxfords as well, not to mention amazing sandals that are ideal for summer. If you like showing your toes while wearing golden shoes, paint them in a color that provides a colorful contrast, like dark green, coral, or even bright red.
---
5

Gorgeous Gold Clothing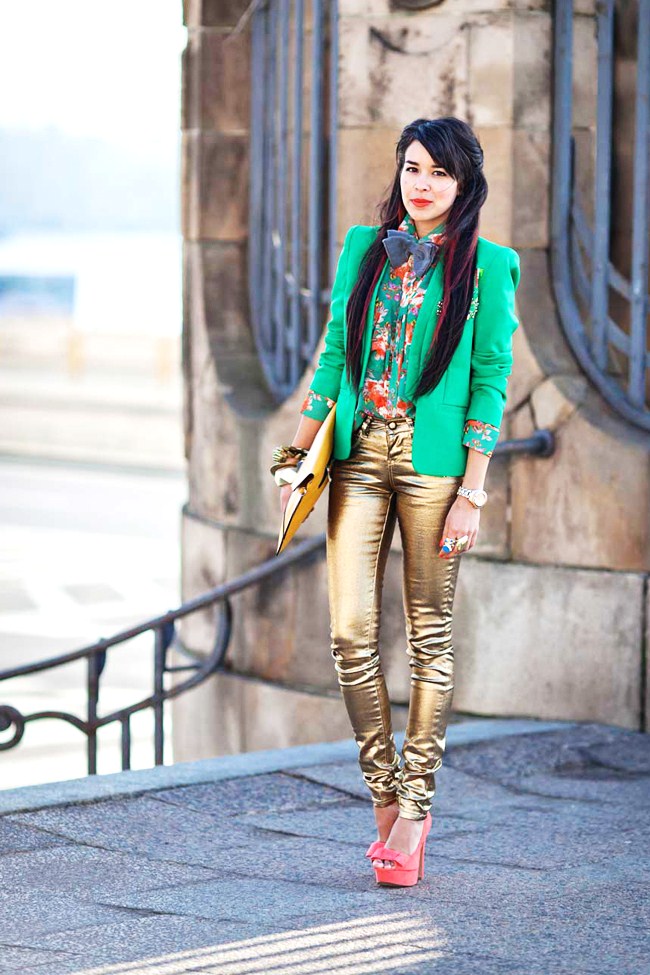 Gold clothing is absolutely amazing. You can go with muted or vibrant, flashy shades, whichever you prefer. The key is to choose a statement piece and keep everything else subdued. A gold skirt with a white or off white shirt looks incredibly! Gold pants with a black tank top is ideal for an evening out, a fun date, or a night of dancing. You can also find items with subdued gold accents to wear to the office, out shopping, or for a Sunday brunch. As long as you choose wisely, the possibilities are endless!
---
6

Amazing Manicures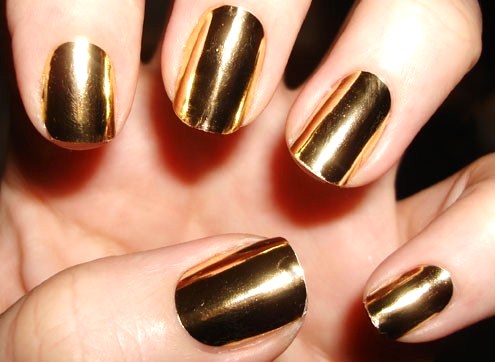 If you're looking for a really stylish way to wear gold, try a manicure! Gold polishes are all the rage this season and on into the next, so you can still take advantage of the trend. Try a gradient look, some innovative French tips, or an all over color for some serious dazzle. Remember, it pairs beautiful with shades of green, especially darker ones!
---
7

Happenin' Hair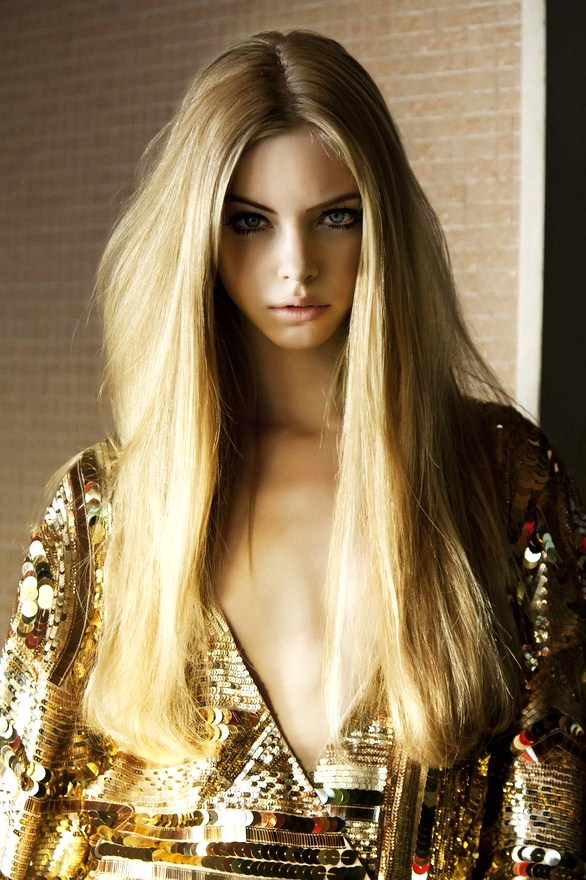 Who who says you have to stick with clothes, shoes, accessories, or makeup to wear gold? This summer and fall, why not go with some sexy golden blond highlights instead? Highlights are ideal if you're trying to grow out your hair color or stop dyeing altogether. You can either pick an ombre look or a few well placed highlights that frame your face!
With so many great ways to wear gold, it's easy to find something that makes you feel gorgeous. Whether you go with subtle eye shadow, a lovely gold belt, or add some streaks to your hair, you can easily add some glowing glints to your overall appearance. If you've always been a silver girl, open your mind a little bit and make some space in your closet, your jewelry box, or your makeup kit. As a convert myself, I promise you won't be disappointed! Do you have any other tips on how to wear gold? Let me know your favorite way to glow!
Top Image Source: weheartit.com
More
Popular
Recent