Have you started wearing any of the spring looks for 2013 yet? Bright styles and stunning make-up were all over the catwalks, and celebrity make-up artists have been whipping up some big looks, too. But if you don't have time to analyze the looks or check out which colors are rocking right now (and let's face it, who does?!), here's the spring looks for 2013 you should try out…
---
1

Beautiful Blues…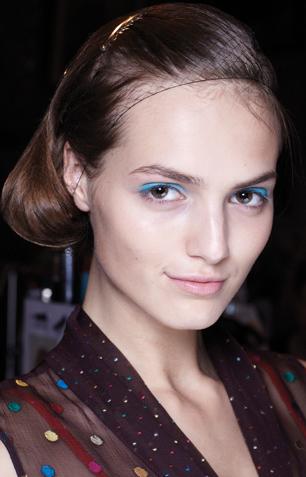 One of the hottest spring looks for 2013 is also the easiest to recreate – blues. Simply invest in a few eyeshadows and liners in a variety of shades of blue, and wear them together. A bright aqua eyeliner looks great worn with a pastel blue shadow, and for evenings, try a blend of light blues to navy across the eye. To keep it catwalk-fresh, avoid eyeliner on your bottom lid, and instead wear a flash of concealer.
2

Metallics…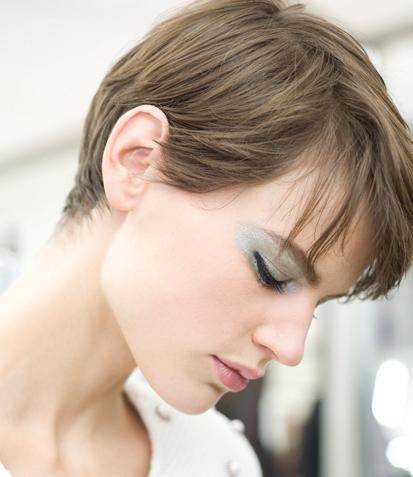 The smoky eye is officially over. Instead of dark eyes, re-create the look using washes of color, a la Chanel. Try lining the eyes with a thin black eyeliner, and add a light silver sheen across the eye up to your eyebrow. Then apply under the eye, passing the eyeliner, and add a few lashings of mascara. Bronze is another great shade for the look, and pastels are set to be big. It's much easier than it looks, so give it a try!
---
3

Edgy Liner…

I LOVE Maybelline's new eyeliners. Chunky bright colored eyeliners with a thick brush on the other side, they make getting that smudged look really easy, and are ideally sized for carrying in your handbag. There's a few shades to choose from, but the navy is definitely on trend, and I love the chocolate brown too. Apply thickly to the top lid alone for an edgy look, and line the bottom lid to upgrade the look for evenings.
---
4

Sculpted Brows…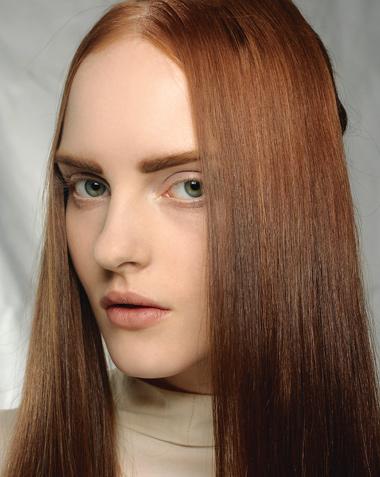 Eyebrows are set to stay huge this Spring, so take a few minutes to redesign your brows. The hottest look is sculpted, graphic brows, which add definition to the face without requiring much upkeep. For best results, speak to an eyebrow threader, and ensure that they keep both eyebrows bold and symmetrical. Then just keep them in order with a matching eyebrow pencil, and a regular pluck.
---
5

Flawless…

Want that striking Spring skin that was all over the catwalk? Luminous skin is big this season, and although it takes some effort, it looks gorgeous on everyone. Get your skincare regime sorted, and make sure you apply skin cream daily. Then choose a great tinted moisturizer, blend and add concealer to hide redness and blend under the eyes. I love NARS SPF30 moisturizer, and a creamy conditioner will make blending effortless.
---
6

Flushed…

The natural look is big, so try applying your tan and blush less perfectly. Avoid the cheekbones, and instead apply color around your features. It's time to ditch the dark shades and bright blushers, too – a nude palette of bronzes, browns and nudes will get plenty of wear, and suit every complexion. For an extra boost, opt for a blusher that contains light-reflecting particles, to give you a dewy look.
---
7

Bright Lips…

This is one of the best, and easiest, spring looks for 2013. Keep the rest of your look natural and fresh, and wear a bold lip color with ultimate confidence. Don't hide behind your reds and browns, either – go for neon shades such as nuclear orange and bright pink. It's daring and fashion-forward, but more than that, it's great fun to wear. Keep it wearable by applying concealer as a base, then applying a matte color for a velvet finish.

So which of these key spring looks for 2013 will you be wearing first? I've already been stocking up the bright lip colors and bright blues, and I'm loving the new blushers. Your skin will never look better! Which looks will you be wearing, and which will you be avoiding? I'd love to know!
---
Comments
Popular
Related
Recent