Eyebrows have always gone through trends, many of which probably seemed pretty extreme at the time at the time even though they look tame to us now. Maybe in the future, rainbow-colored eyebrows will look like child's play, but at the moment, they are very of-the-moment. They showed up here and there last spring, but recently rainbows and bright colors are everywhere on social media's trendsetter darlings: Instagram and Tumblr. As someone who's been eyebrow-obsessed since high school, I'm awed by the trend in an abstract, love-to-see-it, never-do-it kind of way. Whether you simply admire or actively take on a new level of fleek, may I present … rainbow eyebrows, along with eyebrows in all shades of the rainbow.
---
1

I Think This is a Unicorn Eyebrow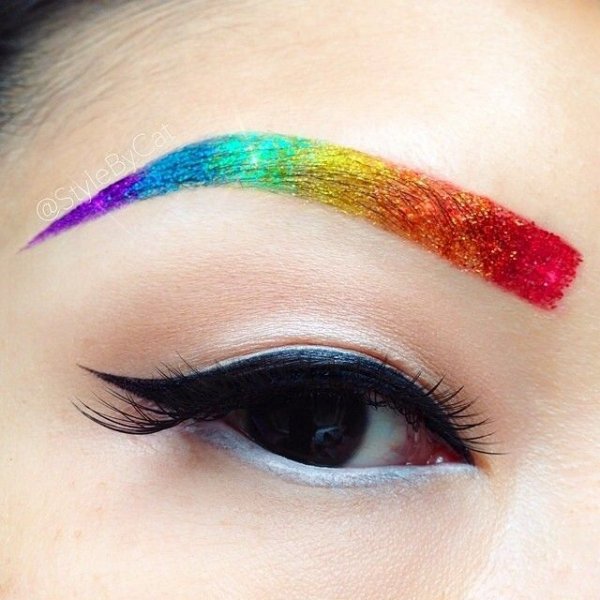 Because look at the way it glitters. It's more ROY G BV than ROY G BIV, but who cares? Also, that shaping is perfection. Perfection.
---
2

Blue on Bold Brows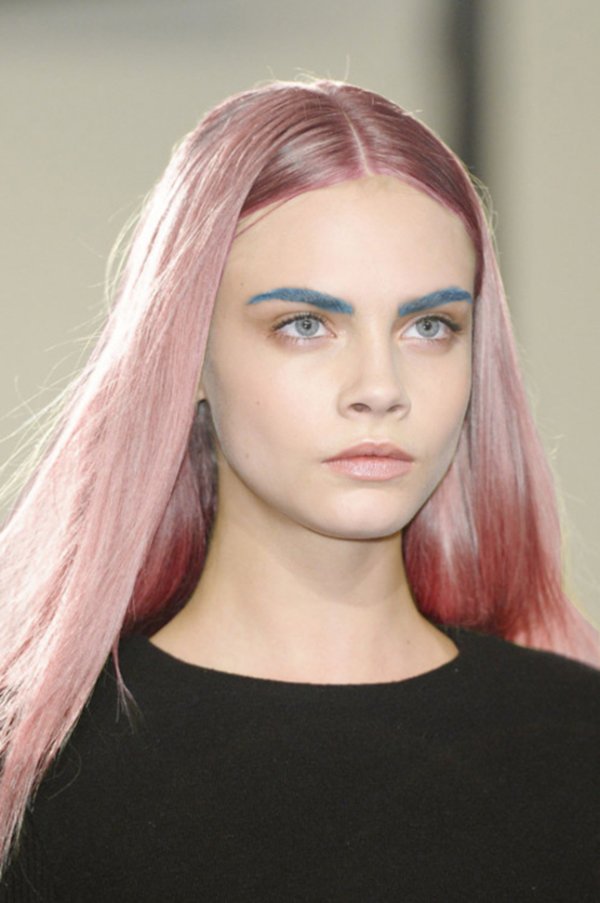 Just personal opinion but Cara Delevingne's brows are ideal for bold trends. But then, I'm crushing on her for eighty-four thousand reasons, so I might be biased.
---
3

From Hot Pink to Royal Purple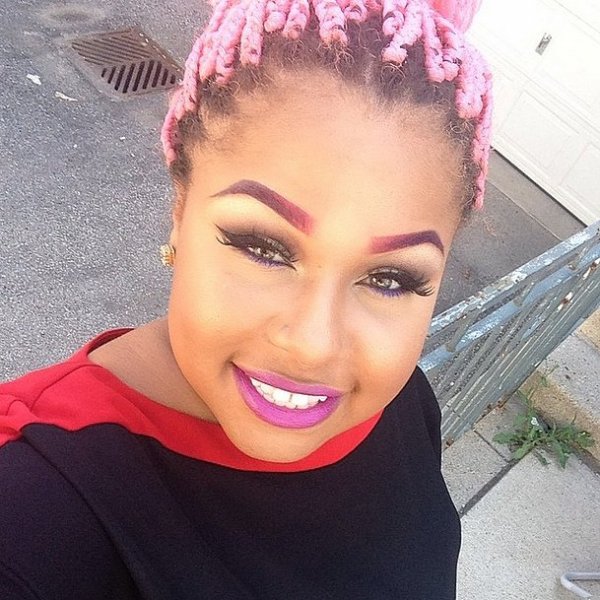 Those two colors are perfect for this gorgeous woman, who both sizzles and stuns. They look almost as if she just happens to have pink and purple eyebrows. Plus, can we please talk about the flawless makeup and the pretty pink hair?
Cheyanne
was the only one i liked. Other then that dyed eye...
---
4

Two-toned Rainbows

Spread out and express yourself all the way across your eyebrows. Why not? They're sisters, not twins. They don't have to be exactly the same.
---
5

Think Pink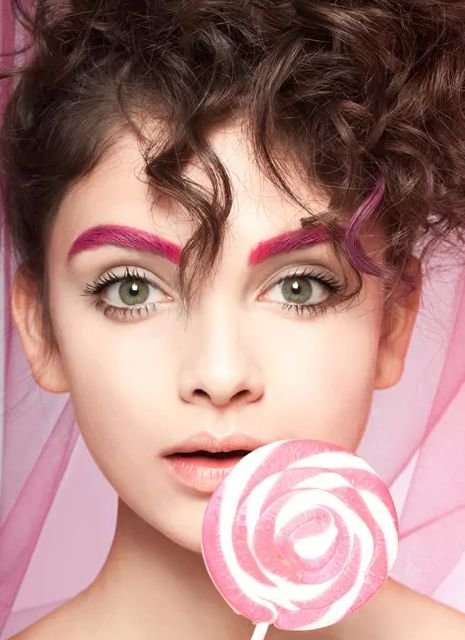 Pink is a popular shade for eyebrows – but then, it's a popular shade for hair as well. I've ventured as far as hot pink eyeliner – the exact same shade as these eyebrows, in fact – but I don't think I could take it further north like this. Nuh uh.
---
6

An '80s-inspired Rainbow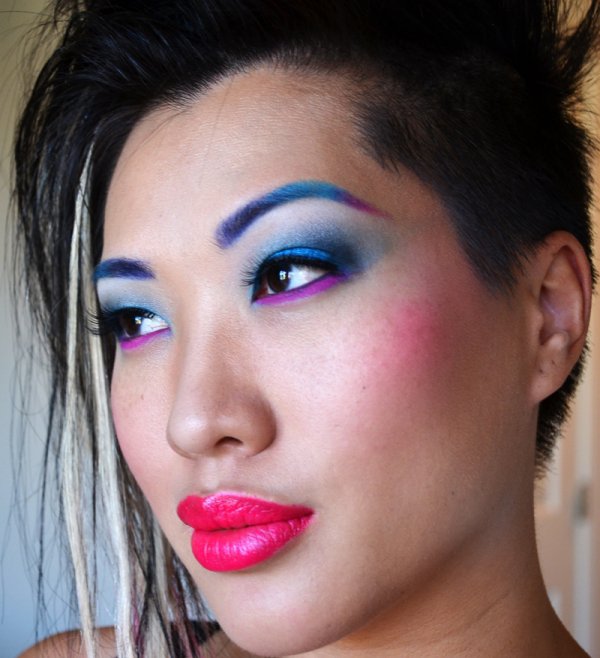 Actually, this strikes me as a perfect '90s look as well – it seems like my entire wardrobe was made up of indigo, teal, and pink. Lisa Frank taught me that combination. It maybe didn't work with kitten sweaters and stirrup pants, but it works on eyebrows, especially here. Also, those lips!
7

Icy Shades of Blue

The great thing about this color is that it works with so many different skin tones. Whether you're fair and icy blonde or dark with black or brunette hair, pale blues and teals will pop.
---
8

Full and Natural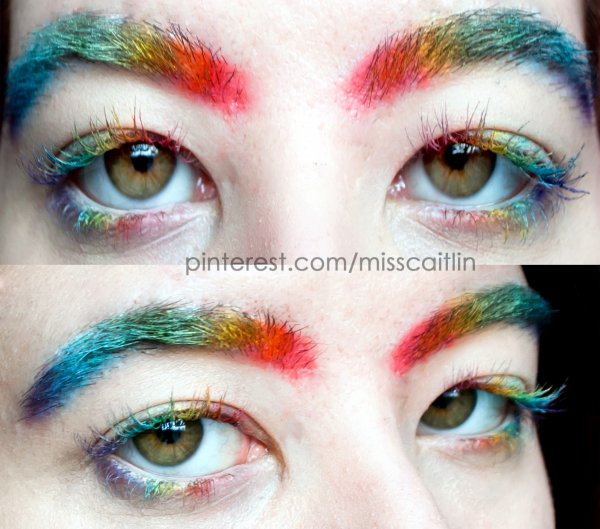 Coloring, painting, and dyeing actually work really well with thick, natural eyebrows. Here the colors are very out there and obvious because of the fullness of the eyebrows, which creates a dramatic look.
---
9

Red, Red, Red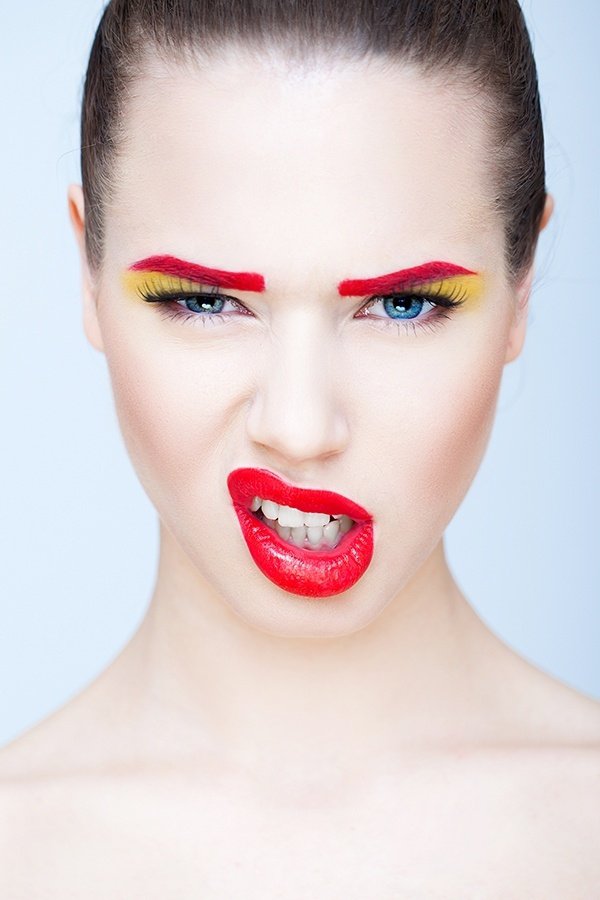 I'm digging this and I don't know why. It all just really works together, even the yellow. Maybe the red lip brings it all together, what do you think?
---
10

The Magic of Magenta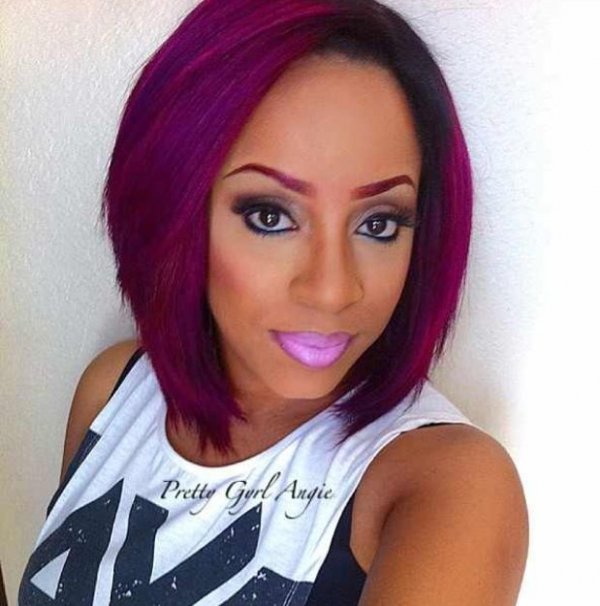 I don't know which I love more, the eyebrows or the hair color. Seriously, that hair is fierce and I'm honestly not sure if it would work as well without the brows.
Lily
was kinda pretty, but honestly, I think the classi...
---
11

A Dark, Dramatic Ombre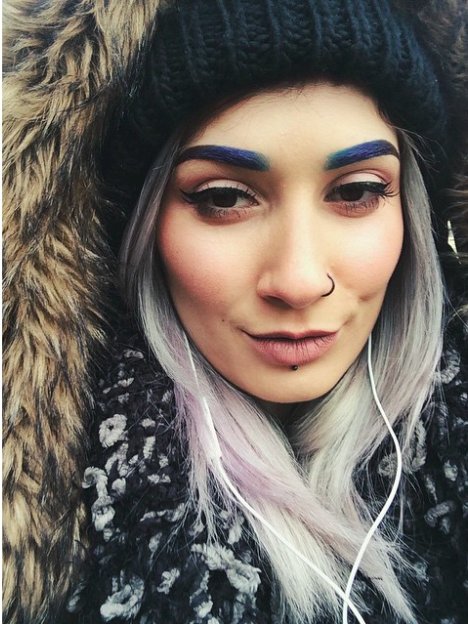 These hardly look colored at all. She might have been born this way. That could be down to the darker colors – green to blue to black, I think, or brownish black. Mixing in a realistic shade or sticking to a darker palette can make even colored eyebrows look like they just grow that way.
---
12

A Subtle Touch of Green

Look at the light touch here. It makes this gorgeous girl's equally gorgeous green eyebrows look natural – see? Because of the use of a darker shade, maybe. Love the matching eye makeup, too!
---
13

A Mere Smear of Orange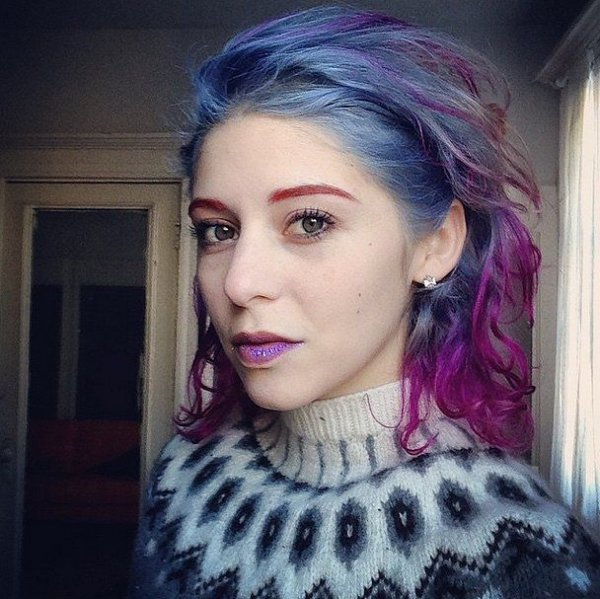 This is almost a red-orange, or a burnt orange, or some similar shade from the big Crayola box, but it proves you don't have to go extreme if you want to try the rainbow eyebrow trend.
---
14

This is Why Redheads Are Gorgeous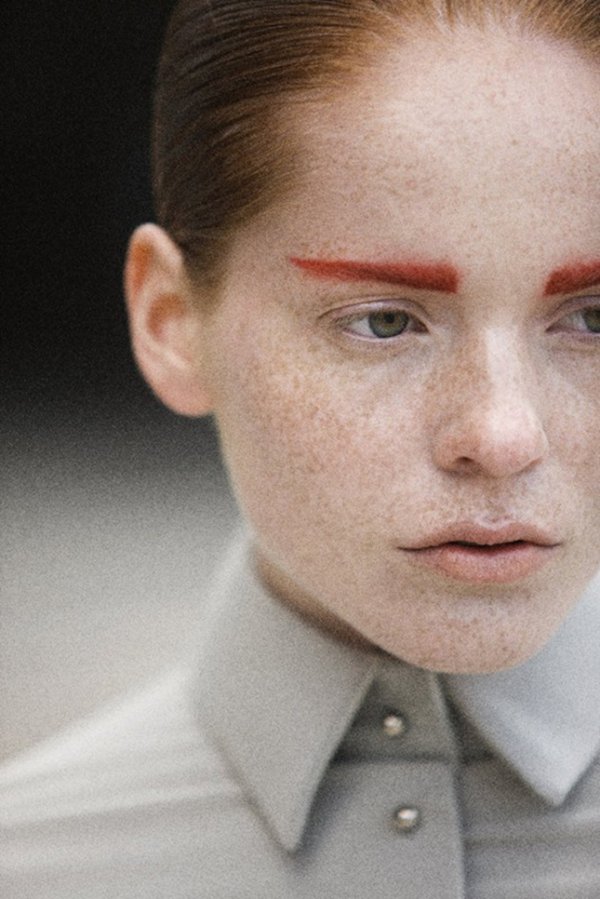 The hair, the freckles, the natural peach lips, and then those bold orange brows. I don't know, something about this works for me – but again, I might be biased, I have an unrelenting thing for redheads both natural and boxed.
---
15

That Magical Place Where Magenta Falls in Love with Tangerine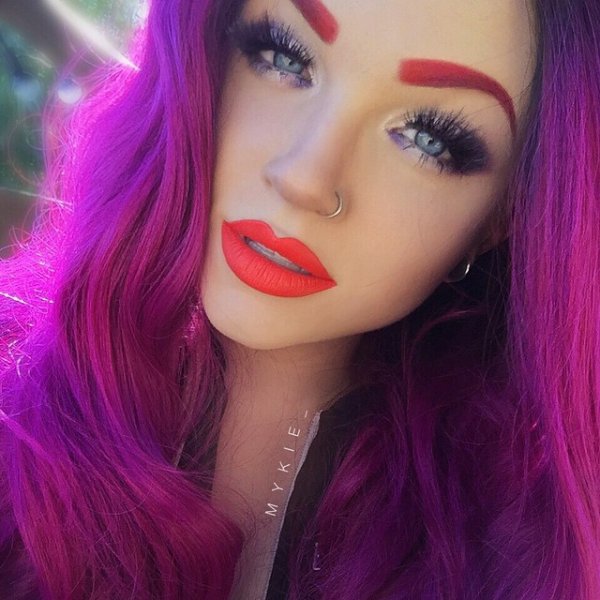 I honestly don't even know if I got those colors right, but I don't care because I love this look. The hair, the makeup, and definitely the eyebrows – love, love, love, cannot explain why.
---
16

Mermaids Probably Have Eyebrows like These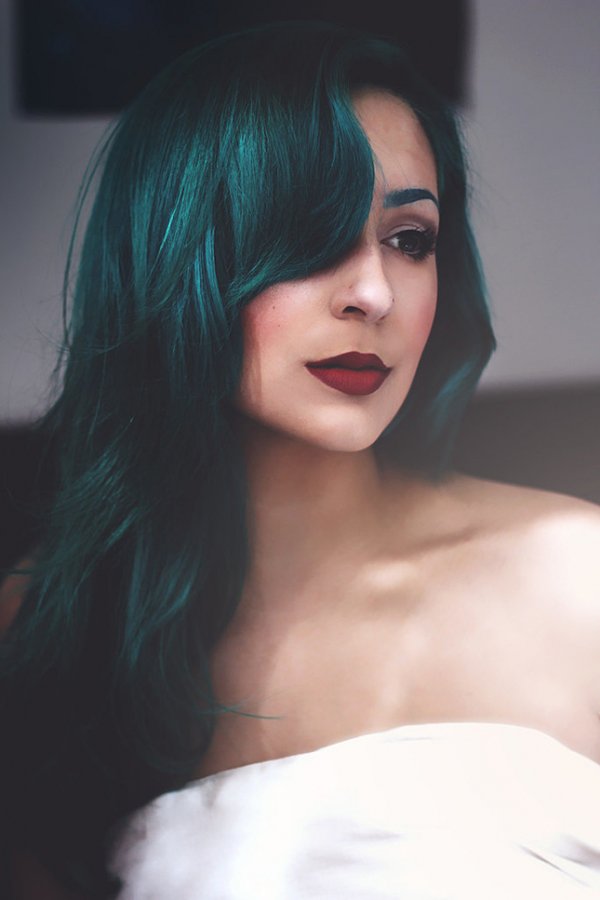 I am so obsessed. I am so in love (sorry, Heather). That's such a pure glass-bottle green and the brows match so beautifully, plus the lip is perfection … I need a minute.
---
17

Rainbow on the Sly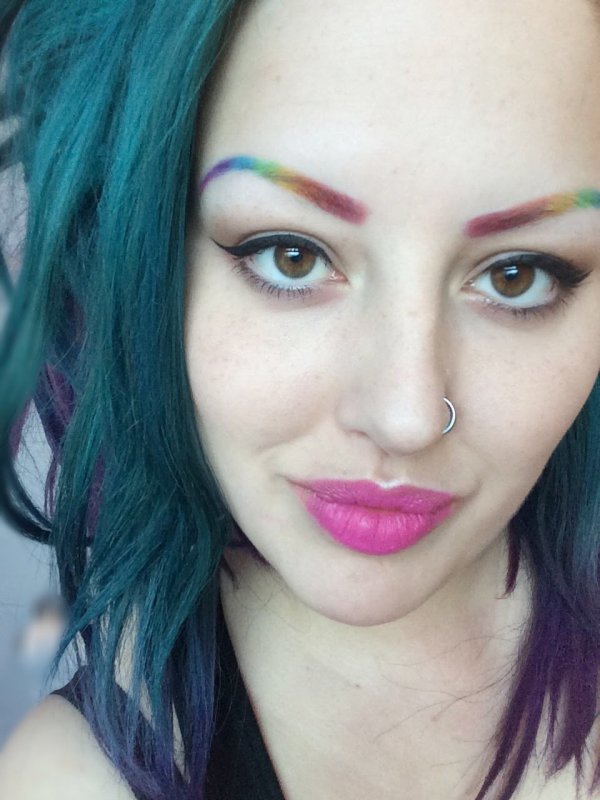 I love how subtle this rainbow is. It follows the natural brow beautifully and the colors are vivid but not too bright. Bravo!
---
18

The Dark Side of Pink

I'm digging how the pink gets darker, fading into black. Don't know if the way it complements her hair was intended, but since Kelly-Marie Saunders is a makeup artist, I bet it was.
---
19

Orange You Glad I Didn't Say Tangerine?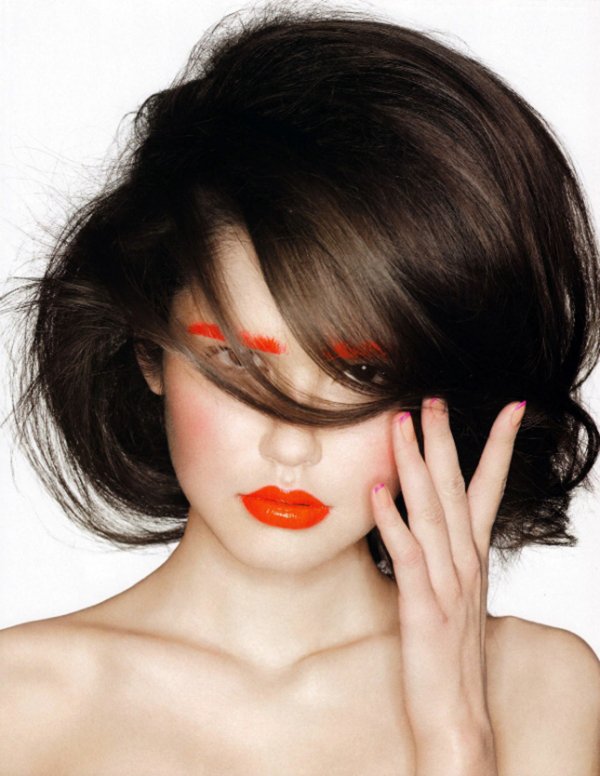 I … sorry. This is … wow. This is bright. I think I like the tangerine lips better than the eyebrows, but this would still be a standout look for a night out or some kind of party.
---
20

Red is the New Black

Next to pink, red is probably one of the most popular eyebrow colors. Some applications, such as this one, are subtle, some aren't, but they're all eye-catching and rather radiant.
---
21

Follow the Rainbow Somewhere else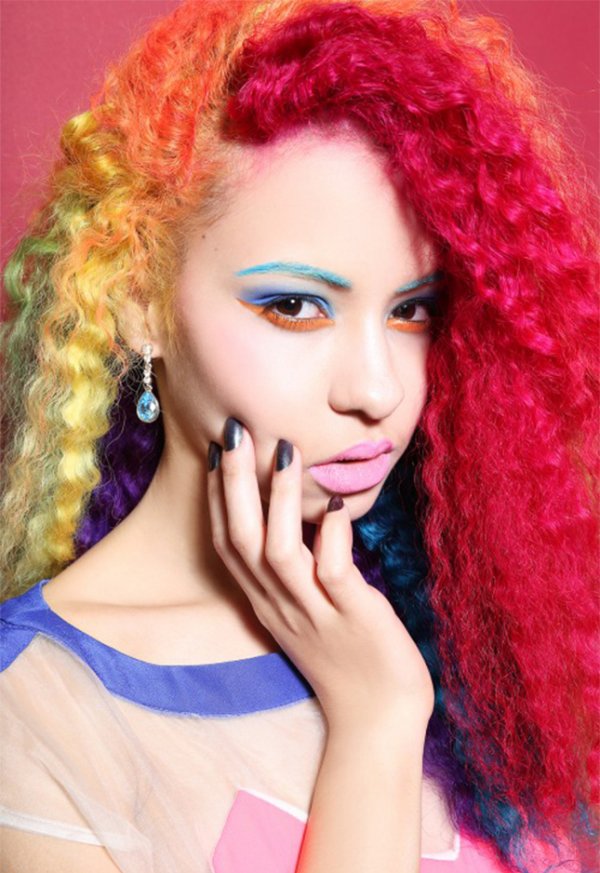 Here the rainbow's in the hair, not the brows, but the mix is spectacular. I love everything about this picture and this look. See? I told you icy blues were almost universally complementary.
Would you color your eyebrows, even if you just used chalk or pencil? Or do you think the trend is best left to catwalks and photography?
---
Comments
Popular
Related
Recent