We're well into May of 2017, which means by now there's a good chance you've heard a few beauty terms that's left you scratching your head, wondering what that could possibly mean. If so, you're not alone! It's understandably hard to keep up with the beauty lingo when new terms are constantly being invented and thrown at us.
Below are some super common words, brought to us by Brit+Co.com, that you're sure to hear plenty of times this year, so let's keep reading to find out exactly what they mean! Hey, you learn something new every day!
Table of contents:
1

Terrarium Eyes

After succulent nails came terrarium eyes. Seriously, WTF is up with people DIY'ing their faces and hands (and probably a slew of other things) to resemble landscaping? Beautifully captivating? Yes. Realistic in the real world if you don't work at a trendy florist shop? Not so much. Regardless, they are here and coming for your garden.
2

Facialates

Think of this one like pilates… for your face. "We wanted to create a massage technique that minimized the effects of aging, without plastic surgery, Botox, or fillers," facialist Stalina Glot of Haven Spa in NYC, who developed the fitness-meets-facial treatment, says. And that they did. After one Facialates "lesson" you can expect a firmer visage with softer fine lines, improved muscle and skin quality, and increased collagen production. Basically, it's how your body would look after an hour or so spent on the mat and — in great shape. Glot uses light lifting and pinching techniques (with tiny little tools that don't hurt) to work the neck and face for about 20 minutes, focusing on the muscles we use to blink, talk, and smile. Rhonda Allison products are also applied, as well as exfoliating enzymes with cherry and papaya, and then a whole lotta peels: Mandelic acid, hibiscus, and apple wine. That's followed by a grape seed mask, some more oils, serums, peptides, and a drop of essence SPF — leaving you with that J.Lo glow. Cost: $245.
3

PRP (Platelet Rich Plasma)

Thinning locks? Forget volume-boosting shampoos and consider another alternative: PRP. "Platelets (which are contained in our blood) migrate to areas of the body that need care," says celebrity dermatologist and wellness expert, Natasha Sandy. "They also contain numerous growth factors that target tissue injury and repair it. So, PRP Therapy works by utilizing those growth factors within our platelets — seven of them to be exact. They enter the hair bulb circulation and stimulate the stem cells, causing changes in the follicle and thus stimulating hair growth." Sounds easy enough… well there is a little blood involved — but pain is beauty, right? Rapunzel-esque strands could be yours! "Blood is drawn and spun in a centrifuge (fancy spinning machine) to separate the blood and get only platelet-rich plasma, which I use to inject into the scalp. Typically you do six treatments over 6-8 months, and the first five are four months apart." Article Continues Below
4

Unicorn Hair

2016 was all about glitter roots with celebs including Lucy Hale, Miley Cyrus, and Kendall Jenner paving the way, but 2017 involves a different kind of phenomenon in the form of long waves-meets-a mystical creature — unicorn hair. Bloggers and real girls have been taking it to new levels every day, as are the pros. Beachwaver creator and celeb stylist Sarah Potempa was hooking all the stars up with 🦄 hair at the Victoria's Secret pop-up at Coachella, saying, "It's a fun way to showcase your creativity. It's a 'big dreamer' kind of hair, and if you think about the rainbow, there are so many colors and variations you can do to achieve the look. Not everyone is going to go for the trend, but it's very aspirational and pretty to look at." That it is. If you decide to try it out yourself, Potempa recommends using hair chalk first (or Manic Panic's pro line) before permanent color and talking to your stylist if you want to go permanent.
5

Russian Volume Fans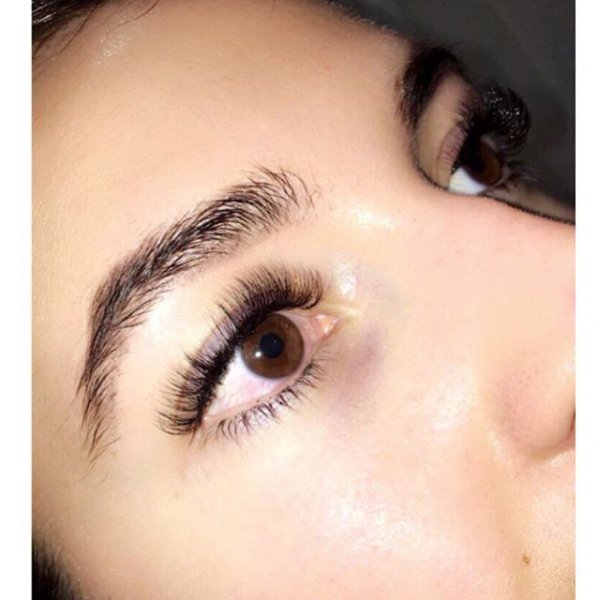 Step aside, single lash extensions — volume fans are taking over. "Not to be confused with the flares you see from a nail salon lash application (AKA don't do it!), Russian volume fans are handmade, lighter, fluffier versions of the classical one lash extension attached to one real lash," says Noir Lash Lounge founder Joyce Poon. "They create a fluff of lashes instead of a single spike, so the result is a softer, more natural lash as opposed to the harsh, Instagram-lash of old."
6

Facial Cupping

Fact: Kim Kardashian is a fan of facial cupping, and so are we. Although tons of healers and celebs have been using the ancient Chinese detoxifying method on their back for decades, it's now having its moment on the face. "By incorporating a suction/vacuum technique, we can control where we want the movement to flow in your face," says celebrity facialist Ildi Pekar. "Most times gray dull skin comes from lack of circulation and toxin accumulation under the skin, so when we create better flow, we can guide nutrients to the surface of the skin, reenergizing and refreshing it, while draining toxins away." If you're worried about those creepy circle bruises on your face, like the ones people are always posting pics of on their back — don't be. "We don't leave bruises with this facial because we keep the cups moving, controlling blood movement and transporting toxins away from the surface to be drained through your lymph system," adds Pekar.
7

Microblading

"Microblading is a semi-permanent cosmetic tattooing treatment that fills in sparse eyebrows," according to the experts at the community-driven review website," RealSelf. So, if you over-plucked in high school (like me… Hi! 🙋 I did!) you now have a chance at a redo, without having to draw on those arches every day. Although the color fades over time, and yearly touch-ups are recommended to maintain optimal results, it's still a totally worthwhile option if you want thicker, fuller brows à la Audrey Hepburn.‌‌

Please rate this article