9 Times to Buy Beauty Minis versus Full Sized Products ...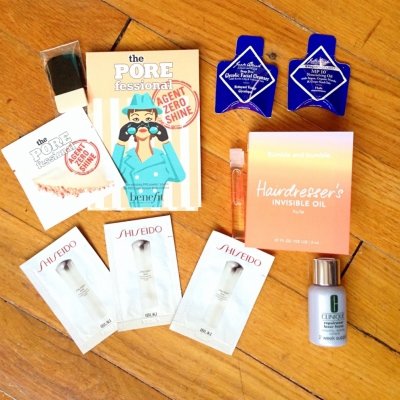 I used to never buy beauty minis. Now that these little sample sized products give you multiple uses, I've fallen in love with them. From makeup to nail polish, I've tried numerous minis. Until I really started to buy beauty minis, I never realized how incredibly useful they are. Not only do they help me save money, but they're more convenient as well.
Obviously, one of the most important times to buy beauty minis is when you travel. Whether you're trying to meet airline regulations or just need to save space in your suitcase, travel sized makeup, hair products, deodorant and much more will all fit in a small pouch. This leaves ample room for other important items such as clothes and shoes. I actually fit two additional outfits in my bag just by buying minis versus full sized items.
Don't you hate spending $20 on a new shampoo only to discover it's not as great as it originally seemed? If I'm not sure if I'll like a new brand or product line, I'll look for the mini version first. Usually, the mini gives me three or more uses so I can determine if I really like it or not. These typically cost as much as 75% less, so I save quite a bit if I find out it's not the right product for me.
Have you ever needed a certain color lipstick or nail polish just to match one outfit? Odds are, you may never use those colors again or if you do, it'll only be on a rare occasions. Beauty minis prevent you from wasting full sized beauty products when you really only need to use them a few times. Before you buy a beauty product, think about how much you actually need.
Beauty minis are perfect for purses. I always have lotion, concealer, foundation, hand sanitizer, a brush and several other beauty accessories in my purse. Believe it or not, I carry a rather small bag. By buying mini versions of these, I save tons of space and still have everything I need. Trust me when I say, it also helps reduce the weight of your purse as well.
Are you out somewhere and suddenly realized you forgot to put on deodorant or you grabbed the wrong lipstick? Maybe you went off for the weekend and didn't pack any shampoo. Emergencies do happen and when they do, beauty minis are perfect solutions. Odds are, you have a full sized version at home already. For now, all you need is a mini version to get you through the situation.
Many companies now let you buy beauty mini boxes to try a variety of different product lines or brands. The box is usually cheaper than just one or two of the full sized versions. Plus, they'll usually last for several weeks. You get to try new products or get small versions of your favorites while saving money. It's a beauty win-win.
I have some beauty products I rarely use. For instance, I typically use black liner, but sometimes I like to mix it up with green or purple. A full sized version costs me $10, but the mini only costs $1. I keep a few minis on hand and only open them when I need them. It saves me money and keeps me from wasting the full sized version which would go bad before I'd ever finish it.
From wedding showers to birthdays, beauty minis make perfect gift bags. I love putting these together myself. You can cater them to any woman. Add some tiny perfume samples, lipsticks, lotions, bubble baths, body washes, nail polishes and any other great minis for a fun, creative gift. Women absolutely love these. Plus, you can put together a guy's version easily too.
9.

Create Mini Beauty Kit
Though I didn't fall in love with minis when I was a teen, I still remember how convenient my mini beauty kit was. I had a small makeup bag with that everything I needed after gym class. Everyone wanted one. It was full of travel sized shampoo, conditioner, deodorant, makeup, brush and perfume. I now have one at home that's easy to grab whenever I travel. I highly recommend using minis to create your own beauty kit for work, the gym, school or travel.
Beauty minis are much better than they used to be. They're more than just samples and highly useful. While you're better off using full sized versions of many beauty products, sometimes the minis are your best bet. What are some of your favorite beauty minis?
{{#comments_count}} Show Commnents ({{comments_count}}) {{/comments_count}}