You Simply Have to Pamper Yourself with These DIY Bubble Bath Recipes ...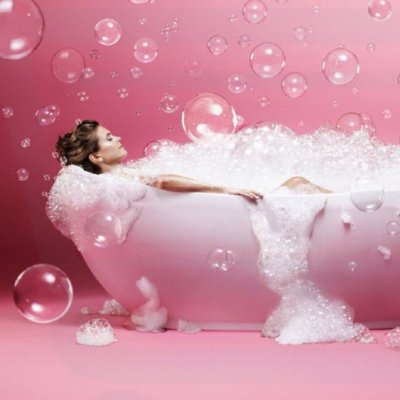 Slipping beneath a sea of bubbles into warm water is one of life's simple pleasures. A tub full of bubbles can take you back to being a kid again, when mum washed your hair and gently washed you down. You might have to wash yourself these days but the memories of those soothing times combined with the warmth of the aromatic water can make you forget your troubles for a while. Go to the kitchen, make your own bubble bath, grab a bottle of wine and a book and you're all set.
1.

Honey Bubble Bath

Bring the power of honey to your skincare routine and to add extra benefits to bath time.

Ingredients
½ cup honey
½ cup unscented shampoo or hand soap
1 cup baby oil
1 tbsp vanilla extract

Put the oil into a large bowl and then gently stir in all the other ingredients until they are all really well blended. Pour into squeezy bottles. This recipe makes 160z. Shake well before use.
2.

Cinnamon and Vanilla Bubble Bath

Every bubble bath should yield a delicious aroma.

Ingredients
1 cup mild liquid body soap like Dr. Bronner's Unscented Pure Castile Soap
1/4 cup pure vegetable glycerin
1 tsp pure vanilla extract
1 tsp cinnamon powder

Stir all the ingredients together in a bowl or large jug until they are well mixed. Transfer to a screw top container. Shake before use. 1/8-1/4 cup added to warm running water will give you a lovely bubbly bath,
3.

Bubbly Bath Salts

Love bath salts? Love bubbles? Get the best of both worlds.

Ingredients
¾ Cup of Liquid Soap
6 Cups of Kosher Salt
1 to 2 Drops Jasmine Essential Oil
1 tbsp Sweet Almond Oil
3 to 4 Drops of Food Coloring (optional)
Baking sheet
Wax paper

Put salt in a large bowl. In a jug combine the oils, soap and food coloring (if using). When well blended, pour over the salt and mix well. Cover a baking tray (cookie sheet) with wax paper. Spread the salt out over the tray in a thin layer. Leave to dry – uncovered – overnight. Put into a glass container with lid. When you want to use, pour up to ¼ cup under the running bath water.
4.

Whole Stem Lavender Bubble Bath

Lavender is a really calming and soothing herb – the perfect scent for bath time.

Ingredients
1 cup clear, unscented dish soap
2/3 cup liquid glycerin
4 tbsp water
2 tsp salt
15-20 drops of essential oil
Stems of dried lavender
1 tall glass bottle with lid

Combine all the ingredients except for the dried lavender in a bowl. Mix well. Pour into the bottle. Add the lavender stems and seal bottle. Allow lavender to infuse a few days before use.
5.

Homemade Mild Bubble Bath

This is ideal for sensitive skin and babies.

Ingredients
4 oz liquid soap (e.g. Castile)
4 cups water
3 oz coconut oil
4-5 drops of your favorite essential oil

In a bowl mix the water with the soap and glycerin. When blended, add the essential oil and mix again. Put into your chosen container. Use a couple of ounces for each bath.
6.

Relaxing Bubbly Bath Soak

Sooth all your cares and troubles away with this one.

Ingredients
½ cup olive oil
2 ½ cups Epsom salts
¾ body wash (unscented if possible)
1 chamomile tea bag
1 peppermint tea bag
10-12 drops essential oil

Add the Epsom salts to a decent sized bowl. Tear open and tip the contents of the 2 tea bags onto the salts. Mix well. Then add the body wash and mix again. Slowly add the olive and essential oils, mixing until it is all well blended. Store in an airtight container until you're ready to use.
7.

Lemon Verbena Bubble Bath Gel

So this is a little more complicated than the others, but the extra effort is so worth it. It's indulgent and sweet-smelling.

Ingredients
5 tbsp liquid castile soap
2 tbsp vegetable glycerin
1 cup boiling water (preferably distilled water)
2 tbsp dried lemon verbena leaves
1 tbsp dried comfrey
1 tbsp dried sweet woodruff
1 tbsp dried peppermint
1 tsp powdered unflavored gelatin
2 tsp witch hazel
8 -10 drops lemon verbena essential oil

Steep the 4 herbs in the boiling water to make an infusion - 20 minutes is a good time. Then strain and discard the herbs. While the herbs are infusing, add the soap, glycerin, witch hazel and essential oil to a bowl. Combine and mix well. Now mix the herbal infusion and the soap mix together. Add the gelatin and stir until dissolved. Once fully cooled, pour the gel into a squeezy bottle. 1-2 tablespoons added to the running bath water does the business.

Making your own beauty products is fun and you also have the advantage of knowing exactly what has gone into them. Have you ever made your own products?

{{#comments_count}} Show Commnents ({{comments_count}}) {{/comments_count}}