Makeup has always been a big money industry – with everything from products to make you look younger to bright colours to make you stand out and fake eyelashes to completely transform your look. It's no wonder we spend a small fortune each year on our favorite products! This year marked the first make up images show, though: a collection of real art created using just standard make up. I didn't know what to expect when I arrived, but some of these make up art images just blew my mind – here's some of the best.
---
1

Body Zip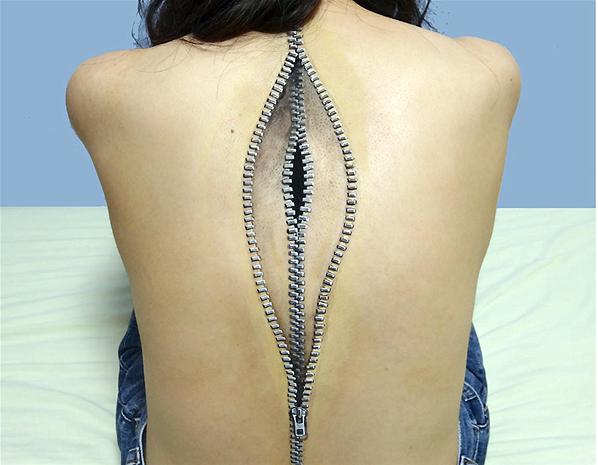 Ever feel like unzipping your skin and putting a new one on? Well, Japanese make up artist Chooo-San has felt like that too – but rather than just moving on, she used her amazing drawing skills to create this image. You'd never guess that this wasn't real: I was half expecting to be able to reach over and pull the zip, but it's a smooth illusion created using makeup.
---
2

Eyes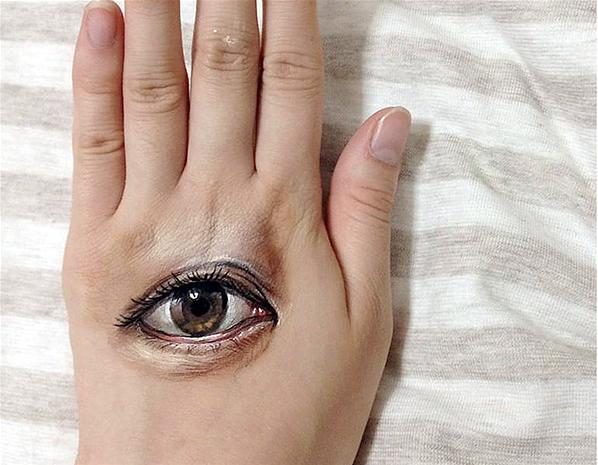 How did she find out she had such talent? The 19-year-old university student used to doodle on her hands with her makeup during lectures. She created stunning, very realistic designs, complete with striking make up looks. It's not just hands that she can transform – her show included several models with two or more sets of eyes, although they were a bit scary! What utter talent.
3

Tummy Trouble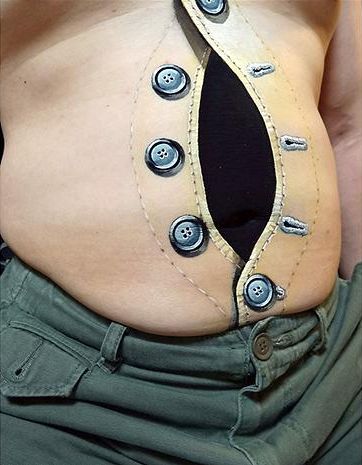 Eaten too much? No problem, make yourself more comfortable by unbuttoning your stomach. This image really expresses the phrase "letting it all hang out!" While people did comment that this one was the least realistic of the lot – probably because of the huge black space – I can't help but admire the attention to detail.
---
4

Corsets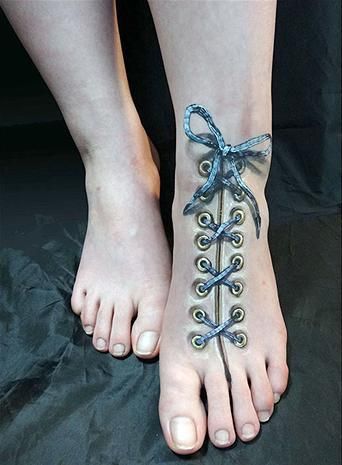 Fancy corseting up your foot? Maybe not. But if you did, this image is an almost perfect representation of what it would look like. We even saw this one get rubbed off using a wipe, after some critics claimed it was a carefully disguised tattoo.
---
5

Upgrade?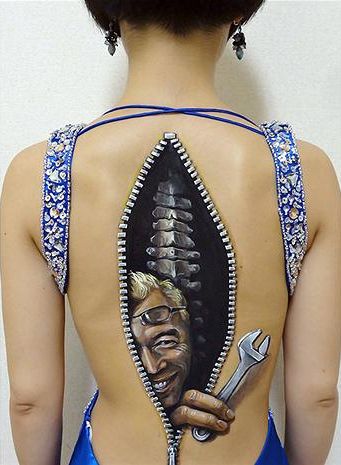 Some of these designs seem very inspired by action and sci-fi movies, and none more than this clever image. The zip detailing is back, but this time the spine is clearly drawn out, along with a helpful engineer and his tools. This image must have taken hours to perfect, and there wasn't a brush out of place. It's no surprise the model opted to keep the image, and went home with this gorgeous body art.
---
6

Energy Boost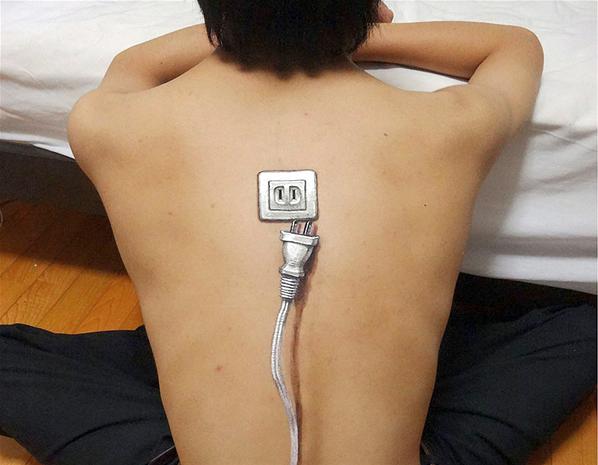 Feeling tired? Late nights and mid-morning dips are a thing of the past if you just plug yourself in like this model…and it looked every inch real enough to be a futuristic body upgrade. I can't imagine being able to turn silver and black makeup into such an amazing image!
---
7

Switch It on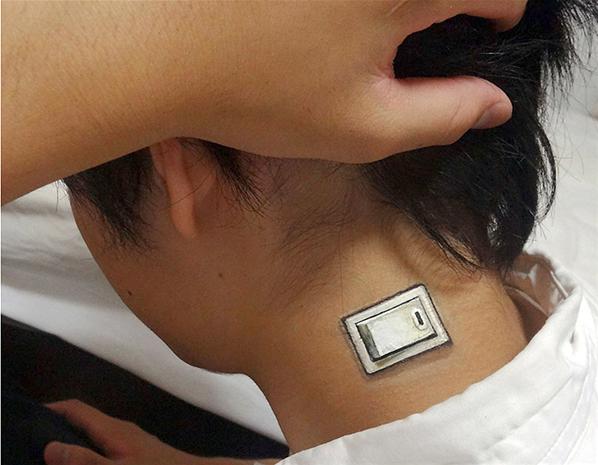 The artist laughed when asked about her inspiration for this one – someone made a joke about needing to turn her off, and rather than coming up with a witty response, she created a switch. Hidden under the models hair, this divided opinion – some were convinced it was a tattoo, others that it could have been real. What isn't in question is that Chooo-San had the last laugh!
Whether you love these realistic looks or prefer more whimsical images, there is no doubt that Chooo-San has some serious talent. When questioned on what she was going to do next, she didn't give the game away – but she's sure to be inundated with offers now that she's shown off her ability. I can't wait to see who snaps her up, and how her great makeup ideas are translated across the beauty world. Which is your favorite look? I'd love to know!
Top Image Source: underwaterfashion.org
---
Comments
Popular
Related
Recent