There's a bunch of teeth whitening products on the market, but which ones truly work to give you that pearly white smile? It's important to remember that not all teeth are suited for teeth whitening and that it may be wise to consult your dentist first before beginning a whitening regimen. However, if you've got the go-ahead, check out some of these awesome teeth whitening products that will give you the 100-watt smile you've been hoping for:
---
1

Crest 3D White Luxe Professional Effects Whitestrips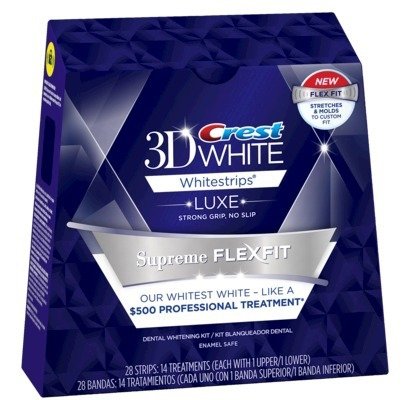 Crest Whitestrips are among some of the best tried-and-true teeth whitening products that've been around for years, which is a true testament to their credibility. These thin, clear strips are applied on the front top and bottom teeth and should be left on for 30 minutes. If this seems like a long time, place them on right before getting in the shower and leave them during your morning routine. The time will be up before you know it! After using each set of strips, the results are said to last up to a year, which sounds pretty impressive!
---
2

Rembrandt Deeply White 2 Hr Whitening Kit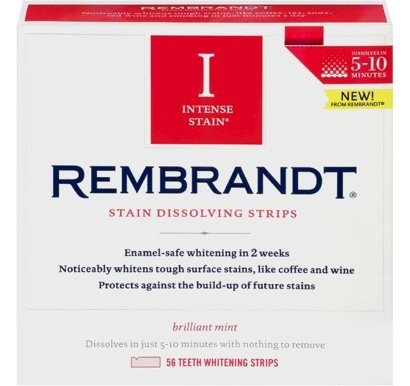 These whitening trays by Rembrandt not only help you get a brighter, whiter smile in two weeks, they also taste like mint, so no more film-y aftertaste! This kit comes with strips, but the trick is all in the trays. The product needs to be left on for two hours, which is definitely a much longer time than Crest, but the results are said to be phenomenal, and at an affordable price to boot!
3

Rembrandt Deeply White+Peroxide Whitening Mouthwash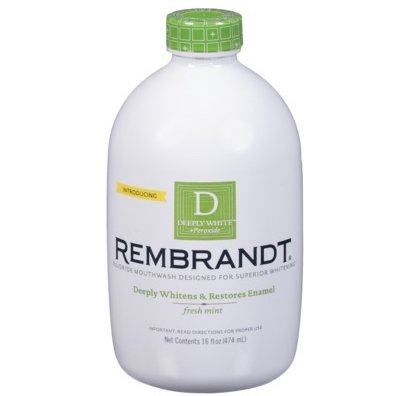 Rembrandt also makes this awesome tooth whitening mouthwash that removes harsh stains WHILE strengthening your enamel! This component is a complete must, especially since some tooth whiteners are a bit abrasive and can break down tooth enamel. Combat bad breath, fight cavities, and whiten your teeth, all in a few swishes!
---
4

Arm and Hammer Extreme Whitening Toothpaste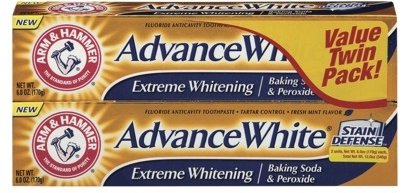 I've tried this product myself and was extremely happy with the results. What could be easier than having your toothpaste double as a whitening treatment to skip those extra steps? Arm and Hammer has always been a classic teeth whitener, but this formula is truly top-notch.
---
5

Sensodyne Extra Whitening Toothpaste

Another great product if you have sensitive teeth is Sensodyne's Extra White toothpaste. Sensodyne helps strengthen your enamel and also helps with temperature sensitivity. After using Sensodyne only a few times, you can already begin to feel your teeth harden and tolerate cold and heat much better. What's more, the whitening component of this toothpaste is quality, and is wonderful for those of you concerned about harsh whiteners for sensitive teeth.
---
6

Colgate Optic White Toothpaste

Optic White is one of the toughest stain-removers on the market and helps your teeth become up to three shades whiter in one week. Not to mention this toothpaste has the same ingredient as whitening strips, so you know you're getting the good stuff.
---
7

Aquafresh White Trays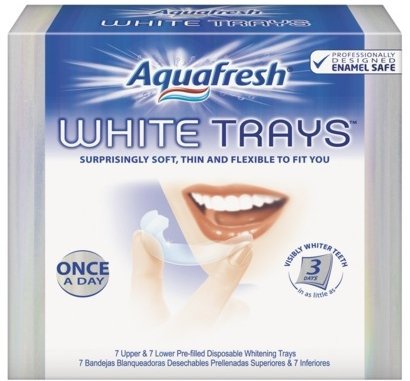 These trays are also mint-flavored like the Rembrandt trays, but claim to help whiten in as little as 3 days. These trays can be worn once a day for 45 minutes, and voila! Brighter smile, here you come!
When searching for teeth-whitening toothpastes, always remember to look for the ADA Seal of Acceptance to ensure safety and quality. It's extremely important to keep your teeth healthy and strong, so choosing whitening products that suit your specific needs is crucial to maintaining proper dental health. Flashing a beautiful, white smile is a total confidence-booster and brightens up your whole face. Go ahead and light up the entire room with these awesome products and let me know what you think! Do you have any favorite whitening products?
Sources: mouthhealthy.org
---
Comments
Popular
Related
Recent