This is What You do if You Hate Your New Short Hair Chop ...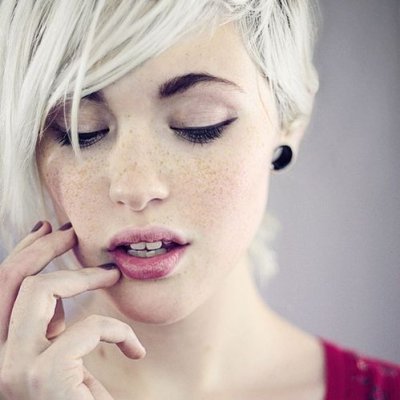 With the lob/bob hairstyle currently trending, the temptation to chop off all your hair is strong! With so many cute and playful styles out there, it's easy to get inspired to cut inches off those long locks that took years to grow. While many of us love a drastic cut, some feel instant regret and almost a sense of loss after a chop. If that's you, don't fret! There are many ways to cope with an unwanted short haircut that might even leave you loving it after all!
One of the best ways to deal with a new short hairstyle that you might not love at first is to change the color. Besides the obvious change in length, color gives your look a whole new vibe! The ombré technique is really popular and looks amazing on almost all hair types, especially short bobs. If highlights aren't your thing, try an all-over dye job in a new and exciting hue. When I got my hair cut short, getting ombré highlights was key to me finally loving it!
2.

Use a Dry Texture Spray
Playing with your hair's texture is great way to figure out what style looks best. If you need more volume, a dry texture spray works wonders. It also gives your hair that second day, messy look that we all crave. Oribe is my absolute favorite line of hair care products- the dry texture spray inparticular is truly a holy grail product!
3.

Don't Forget about Hydration
If you use heat styling tools on your hair, you absolutely must use a protective leave-in treatment. This is key for having smooth and healthy strands that don't split (as easily). Although I have highlighted hair and use heat tools daily, I always get compliments on how healthy it looks (and feels) because I use good product! Good also doesn't necessarily mean expensive. Read reviews and know what options you have!
Healthy hair and skin start from the inside out. What you put in your body will reflect on your outward appearance. Dull, lifeless hair and skin is partly the result of a poor diet and lack of hydration, so remember to eat your greens and drink plenty of water!
5.

Take Supplements to Promote Hair Growth
There are many dietary supplements you can take that promote hair growth. For example, biotin aids in healthy hair and nail growth, as well as folic acid. They work especially well when combined! Perhaps that's the secret to a pregnant lady's luscious locks (along with surging hormones!).
6.

Experiment with Different Styles
Sometimes a drastic hair cut means learning how to style it with some trial and error. Play with different styles, like straight, curled, or loose and wavy with texture. This process can be super fun, especially since short hair takes little time to style!
Lastly, if you are truly unsatisfied with your new hairstyle, you can always invest in some great extensions. Hair extensions, when done professionally, can look amazingly real and beautiful- not to mention, they will buy you time while you grow out your real hair to your desired length.
Although changing your hair can be almost traumatic when it's not a well-loved change, it is only hair. The good thing is that it grows back and before you know it, it's long again! Remember not to dwell on what you don't like but focus on what you love and what you can control (like the above-mentioned tips). Please feel free to share any additional styling tips (or personal coping methods) for a regrettable chop that made you love it again!
{{#comments_count}} Show Commnents ({{comments_count}}) {{/comments_count}}