Acne can be such a nightmare for women of all ages, but with some of the best acne treatments out there, it isn't impossible to beat. Hormones can cause acne, along with other imbalances in the body, or it can be as simple as an imbalance in the pH of your skin. The best acne treatments out there cleanse, nourish, and protect your face from acne 24/7, so you can focus on looking your best without any worries. Try some of these out to see which works best for you. Most are cost effective, but all are highly rated and proven to be the best of the best acne treatments out there.
Table of contents:
1

Murad Acne Spot Treatment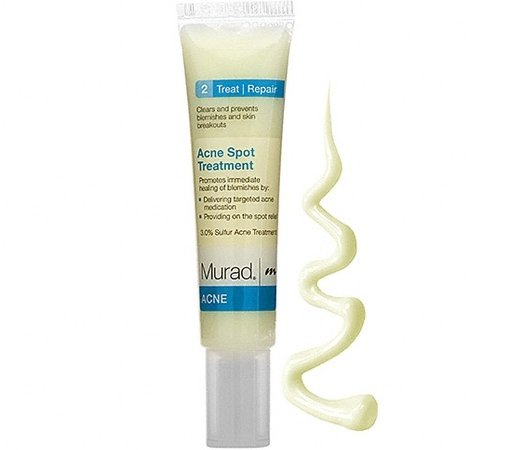 Murad's Acne Spot Treatment continues to be one of the best acne treatments among user, beauty editors, and other industry professionals. It contains a special sulfur compund that helps to reduce blemishes in just one or two days. In fact, 90% of users say they saw results quickly that lasted, all within this one single treatment. This cream, unlike many others on the market, contains a special anti-inflammatory base of ingredients so it softens, protects and nourishes the skin, along with reducing redness.
Price: $18 at sephora.com
2

Neutrogena on-the-Spot Acne Treatment, Vanishing Formula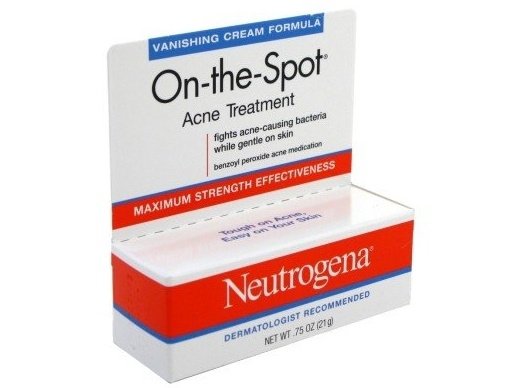 Neutrogena's a go-to brand for many skin care issues, with acne being one of the top complaints. One of Neutrogena's oldest and most popular products is the On-the-Spot Acne Treatment that is rated highly for being effective and gentle. It cleanses the skin, yet is gentle enough that it won't dry your skin out, create redness, or leave your skin irritated.
Price: $6 at drugstore.com
3

Kate Somerville EradiKate Acne Treatment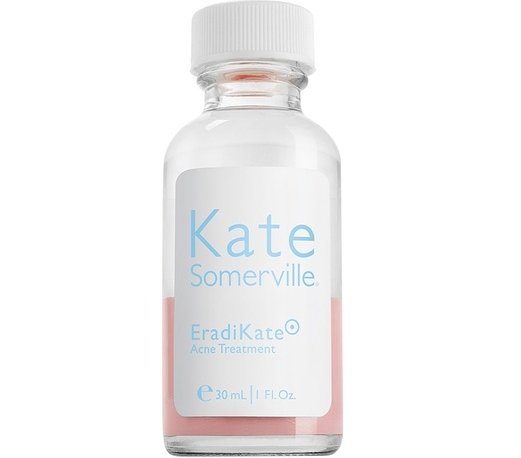 Kate Somerville's EradiKate Acne Treatment uses high levels of sulfur to get rid of spots quickly, and is a great overall base acne treatment. Formulated with not only sulfur, but also zinc oxides, it helps prevent future breakouts and treat current ones.
Price: $22 at sephora.com
4

Juice Beauty Blemish Clearing Serum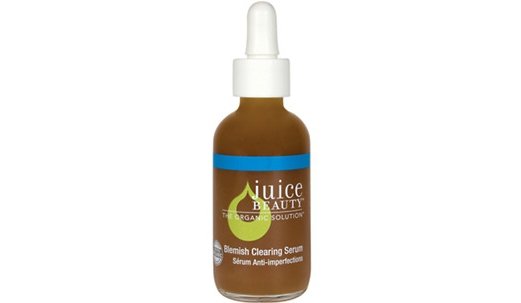 Clear skin doesn't have to be just a dream of yours with Juice Beauty's Blemish Clearing Serum. It keeps skin hydrated and nourishes it at the same time. It also includes an organic fruit acid and salicylic acid to banish acne and whisk away dead skin cells that lead to acne. It also contains aloe vera, which is used to soften and repair skin so it doesn't become dry and damaged. .
Price: $29 at v2admin.juicebeauty.com
5

Burt's Bees Natural Acne Solutions Targeted Spot Treatment
Burt's Bees' Targeted Spot Treatment is an all natural, gentle and effective formula to reduce acne and also prevent future breakouts. It is non-irritating and contains soothing tea tree and calendula oils, along with yarrow and parsley extracts to treat inflammation and redness.
Price: $8 at walgreens.com
6

Malin+Goetz Acne Treatment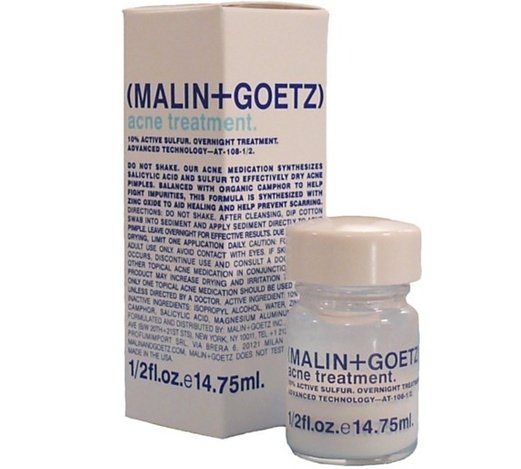 If you need a fast, overnight treatment, try Malin+Goetz's acne treatment. It is made with salicylic acid and 10% active sulfur to dry pimples and zinc oxide to promote healing and prevent scarring.
Price: $22 at beautybar.com
7

Dr. Brandt Blemishes No More Intensolution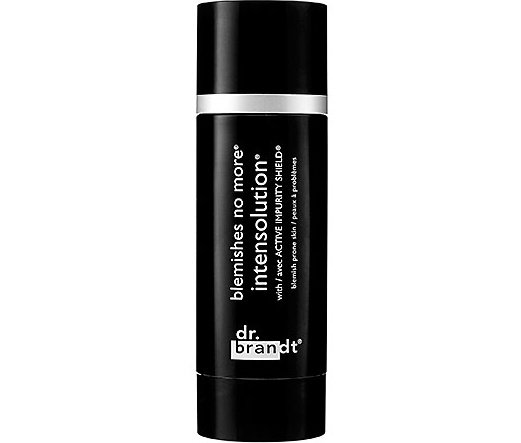 Dr. Brandt's Blemishes No More Intensolution has not only won numerous awards for fighting sebum production, bacterial grown and removing dead skin cells, but also for its fast effectiveness. It reduces breakouts fast without drying out your skin and is said to be a miracle worker among users everywhere. As a bonus, it is made without sulfates, synthetic fragrances or dyes of any kind.
Price: $35 at sephora.com
8

Clean & Clear Advantage Acne Spot Treatment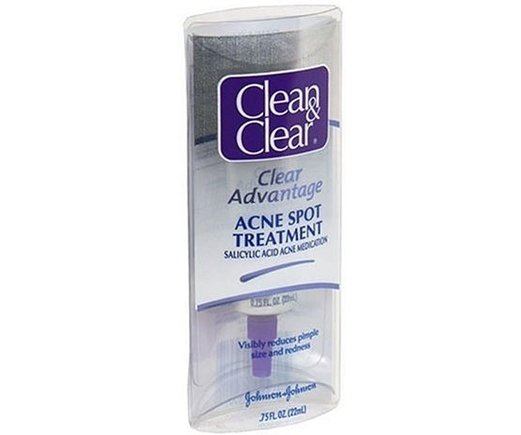 This treatment has been around since my high school days and is just as popular now as it was then. It has been a favorite among users, beauty editors and everyone in between because it is affordable, effective and gentle. It quickly reduces pimple size and redness and works wonders for preventing dry skin. You also don't have to use much to see a difference and it lasts several months at a time.
Price: $6 at walgreens.com
9

Boscia Clear Complexion Treatment with Botanical Blast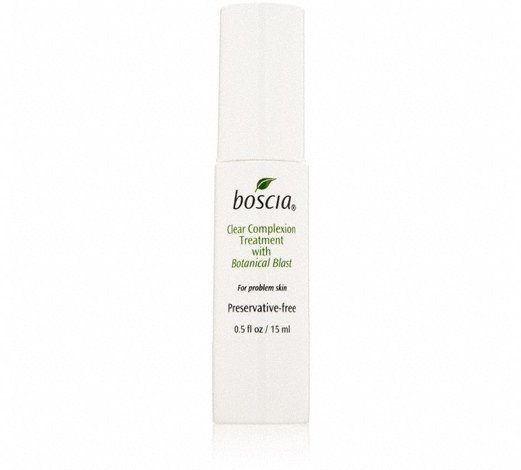 Willow bark is one of the key ingredients in Boscia's preservative-free botanical formula used to treat acne. Willow bark fights acne and also reduces inflammation so it won't dry the skin out. This product is highly rated for its ability to reduce acne and even improve the tone of your skin.
Price: $35 at sephora.com
10

Clinique Acne Solutions Spot Healing Gel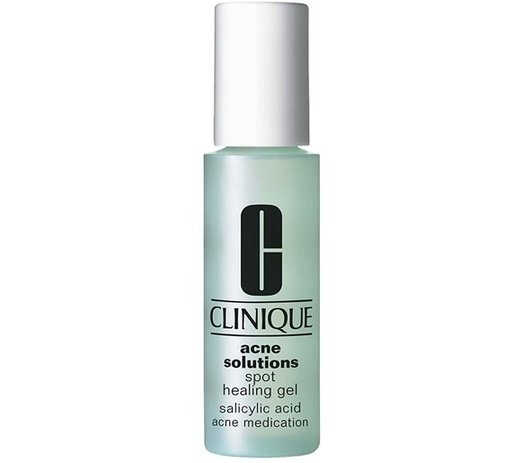 Clinique is a classic brand to turn to for whatever skin care needs you have. Their Acne Solutions Spot Healing Gel has been a classic for years. It is formulated to help skin heal from blemishes, and I love that is incredibly gentle at the same time. It won't cause irritation, and has a nice, refreshing feel to it immediately upon application. A highly effective treatment for clearing skin quickly. Clinique Acne Solutions Healing Gel is also formulated to help skin heal from blemishes and topical irritations.
Price: $16 at sephora.com
11

Proactive 3 Step Acne Solution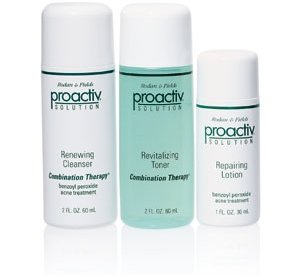 My acne became pretty bad in 2003 at its worst and I turned to Proactiv for hope and definitely found it. This highly rated 3 step system is used by everyone including the common everyday woman, teenager, and even celebrities and beauty editors. It contains a 3 step system that consists of a cleanser, toner and moisturizer, but is unlike other brands out there for a few reasons. The cleanser is oil-free and soap-free so it won't cause your skin to be greasy, or dry. It also exfoliates it gently and contains special micro-crystals that penetrate pores to kill acne fast with medicated and U.S. prescription grade benzoyl peroxide. The toner is alcohol-free, and purifies pores with glycolic acid, which also gets rid of dead skin cells. Lastly, the moisturizer is full of natural botanicals that help repair skin fast and even help improve the softness and texture of your skin, along with removing redness acne preventing irritation.
Price: $20-$30 for a month supply at proactiv.com
Do you have favorite acne treatment? Or, what's the hardest issue you have when trying to find a good acne treatment?
Please rate this article