Foot creams are an answered prayer for girls suffering from cracked heels or calluses. As an avid exerciser and high-heel lover, my feet take quite the beating. While I try to give myself proper rest, sometimes, my feet need a little extra TLC. If you're in the same boat as me, try using some of the best foot creams on the market today. I'm willing to bet that you'll have yourself a lovely little pair of feet in just one week!
---
1

Eucerin plus Intensive Repair Foot Creme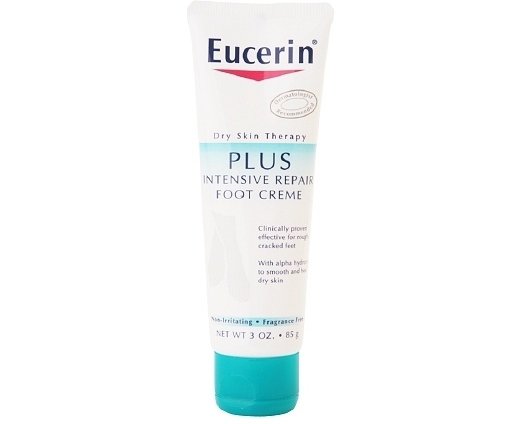 Eucerin is my favorite brand of lotion to heal dry skin, and one of the best foot creams out there is made by this company. Eucerin's Intensive Repair Foot Creme is absorbed quickly, is fragrance-free, enriched with alpha hydroxy acids and is very economical. It works best when applied on cracked, dry heels before bed.
Price: $6
Buy Here: drugstore.com
2

Burt's Bees Foot Creme, Honey & Bilberry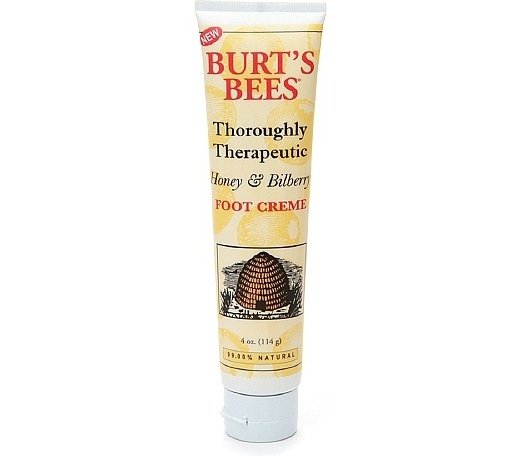 This luscious cream is made with pure grapeseed and sunflower oils and will heal your cracked heels in no time. As a bonus, all Burt's Bees products are 100% natural and contain no animal ingredients of any type. They also work very well, all through natural, plant-based goodness!
Price: $10
Buy Here: drugstore.com
---
3

Neutrogena Norwegian Formula Foot Cream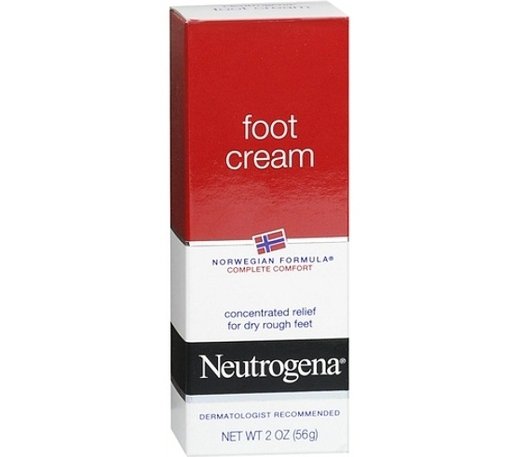 Neutrogena is my magic brand, as I like to say. They don't make anything I don't like, and their foot cream is always in my cabinet. This one is a heavy duty cream that helps callused, chapped, or even sunburned toesies! It is rich in glycerin that acts as a natural moisturizer for the skin and is instantly and easily absorbed.
Price: $4
Buy Here: drugstore.com
---
4

L'Occitane Shea Butter Foot Cream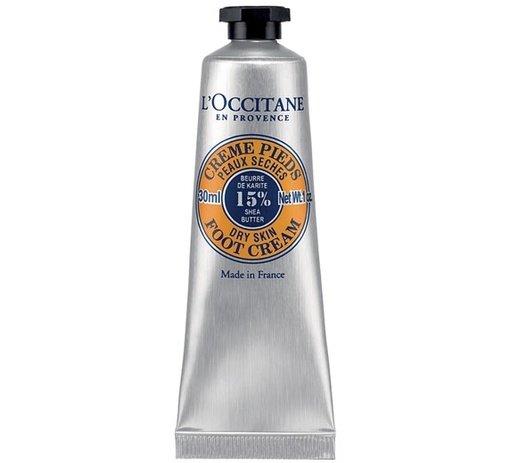 L'Occitane's Foot Cream is as famous as their hand creams are, and with good reason! They are some of the best creams on the market for dry skin. This foot cream softens and soothes with lavender oil, shea butter and arnica extract. You'll have an exotic spa-like experience right in your home with this lovely cream. Containing 15% shea butter, you can be sure it isn't only rich and velvety smooth, but also smells divine!
Price: $28
Buy Here: sephora.com
---
5

Barielle Total Foot Care Cream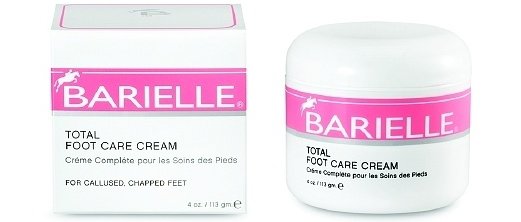 This brand is new to me, but one I'm interested in trying since it gets a lot of buzz from beauty editors everywhere. Barielle's vegetable protein based Total Foot Care Cream is built for the most callused and chapped feet out there, apparently. It is formulated with a soy protein known as hydrolyzed vegetable protein, and contains special amino acids and phytonutrients that repair and heal the skin.
Price: $20
Buy Here: drugstore.com
---
6

Bliss Foot Patrol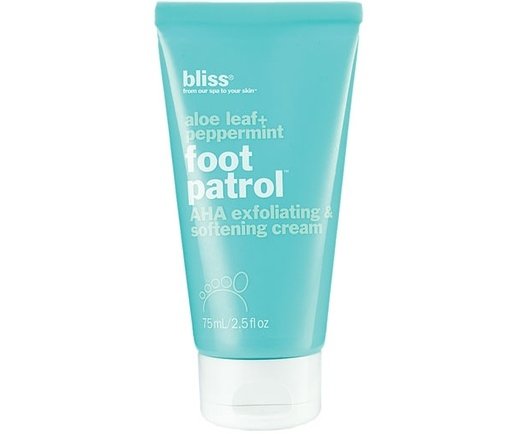 Bliss products are another brand I love for the luxury feel of a spa right in my bathroom. If your feet are dry and need some refreshment, try Bliss Foot Patrol's peppermint oil rich formula. It smells so great and is known for its ability to exfoliate, moisturize and relax stressed feet, all with one use.
Price: $18
Buy Here: sephora.com
---
7

Clarins Foot Beauty Treatment Cream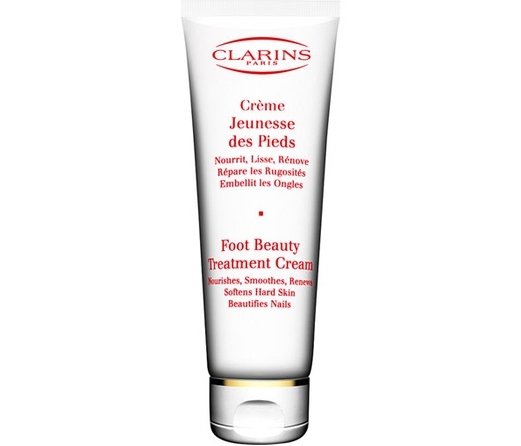 Cashews for your feet? In this case, yes. Clarins Foot Beauty Treatment Cream is rich in cashew nut oil and shea butter, which makes it extremely moisturizing and soothing. Clarins is always a brand I trust for beauty care, so I can't wait to get my hands on this lovely foot cream!
Price: $25
Buy Here: shop.nordstrom.com
---
8

Philosophy Soul Owner Exfoliating Foot Cream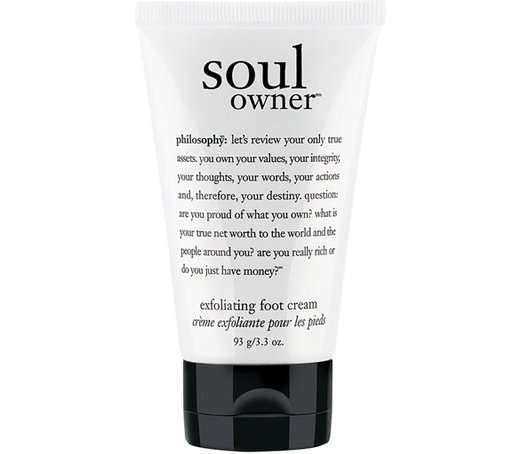 Philosophy's Soul Owner Exfoliating Cream is made with salicylic and glycolic acids, which help exfoliate and nourish the skin at the same time. This blend also contains lavendar oil, which soothes stressed feet, and can even help you relax, just through the scent alone. Philosophy's Foot Cream is specifically designed to exfoliate rough, cracked skin and is best for especially damaged feet, and not for everyday use.
Price: $16
Buy Here: beautybar.com
---
9

Deborah Lippmann Steppin out Nourishing Foot Cream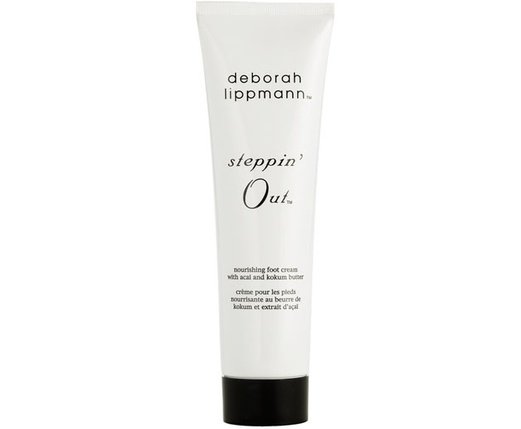 Enriched with superoods like acai berries, kokum butter, aloe vera and olive oil, Deborah Lippmann's Foot Cream does it all and gives your feet the royalty treatment. Thanks to these fancy ingredients, feet are instantly moisturized and soothed in no time.
Price: $34
Buy Here: shop.nordstrom.com
---
10

AHAVA Mineral Foot Cream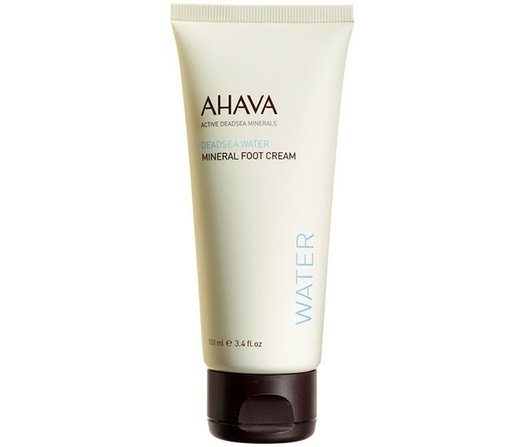 This spa brand is a favorite of mine when I can get my hands on it. It is built to soothe irritated, tired feet, and I love it to treat calluses from long days of wearing high heels, or working out which can be hard on your heels and soles. AHAVA's rich Mineral Foot Cream restores damaged feet and prevents cracking and calluses since it is made from foods like avocados, wheat germ, sweet almond oil and the moisturizing jojoba oil. It also treats fungus on the feet from calluses with tea tree leaf oil and salicylic acid.
Price: $20
Buy Here: shop.nordstrom.com
---
11

The Body Shop's Peppermint Cooling Foot Lotion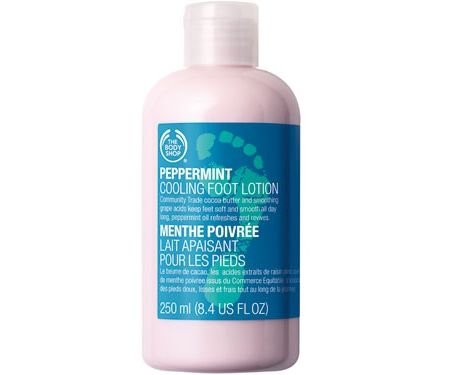 I chose this fabulous foot cream because it is made for every girl's budget and is so amazing! I'm a sucker for anything peppermint honestly, and it makes for such a soothing scent to rub on your feet. Peppermint is rich in menthol oils that soothe dry skin and help reduce inflammation. This lotion comes in a large 8 ounce bottle, all for only $16 and is made with cocoa butter and sweet almond oil for a specially moisturizing and luxurious experience.
Price: $16
Buy Here: thebodyshop-usa.com.
Do you have a favorite foot cream you like to use? Share your favorites and feel free to add links so we can check them out for ourselves! What foot creams make your feet happy?
---
Comments
Popular
Related
Recent